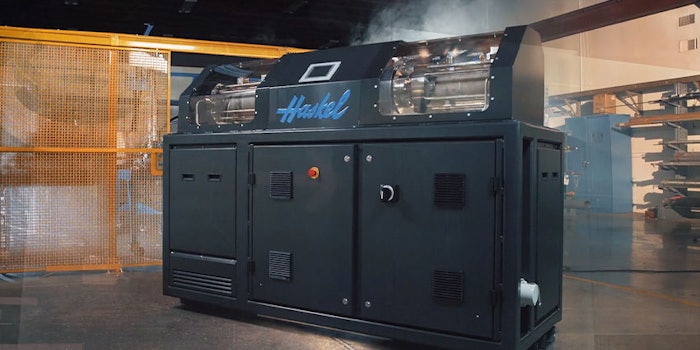 Haskel has introduced electric Q-Drive gas boosters that are able to be used in clean, indoor facilities and do not require compressed air.
Electric gas boosters also provide significant energy savings with more sophisticated self-diagnostics that ease use, allow greater process control and improve reliability during the supercritical extraction process.
"With hydraulic gas boosters, there is always a concern that they could leak or spill hydraulic oil," says George Volk, director of sales and marketing a Haskel. "This is a problem when there is a mandate for a certain level of cleanliness, which may include cleanrooms. Hydraulic units are noisy too, though less so than pneumatic."
As an example, the electric Q-Drive gas booster by Haskel simply uses electricity and does not produce any emissions. It is also much quieter than either air or hydraulic drives. (<77 dBA) during operation, while still offering up to 6,500 psi for high-pressure applications. The direct electric drive is also much more energy efficient.
"Electric units are ideal where high levels of cleanliness are required and they simplify the installation, along with hearing conservation programs," says Volk. "Their use can also streamline production, since workers can spend more time in the vicinity without worrying about exceeding the regulations or potential hearing loss."
The electric units are also more energy efficient than both pneumatic and hydraulically driven boosters.
"Compared to pneumatic gas boosters, advanced electric units use one-third of the energy and offer flow rates 10 to 20 times higher," says Volk. "Compared to hydraulic boosters, the electric units also provide energy savings due to lower cooling requirements."
Although there are several electric-driven gas boosters on the market, even within the category, there can be significant design differences.
Some of the early market entrants are designs that employ a gearbox to convert the rotary motion of the motor to reciprocating, which increases complexity and the amount of maintenance required. More advanced units are built using a simplified linear actuator drive which enhances reliability and reduces the mean time between failure (MTBF).
Today's electric units also include remote and self-diagnostic capabilities. Units such as the Q-Drive come with human machine interface (HMI) and touchpad control to allow operators to monitor and control pressure and temperature closely and easily change setpoints, which can help optimize the SFE process.
The system's smart, virtual self-diagnostics and predictive maintenance capabilities also deliver automated maintenance reminders to ensure reliability and performance.
"With the considerable R&D investment in these more advanced electric gas boosters, many of the shortcomings of pneumatic and hydraulic units have been resolved," concludes Volk. "This opens up new possibilities for OEMs that cater to the needs of businesses relying on supercritical fluid extraction."