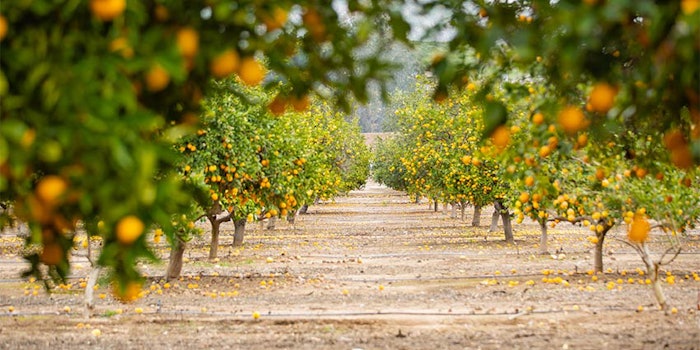 Givaudan has announced it will be launching a multi-sensorial, virtual reality tool for citrus beverage applications called Virtual TasteTrek Citrus. The launch of the tool builds on Givaudan's long-term partnership with the University of California, Riverside (UCR).
Previously: Givaudan Releases 2019 Full Year Results
The experience will combine sight, sound and smell, enabling customers to learn about the citrus market landscape and co-create their own flavors.
Individuals who use Givaudan's Virtual TasteTrek Citrus tool will be taken through a virtual tour of UCR's Citrus Variety Collection, with the ability to stop to learn about unique varieties, enjoy delicious scents and create a new, personalized citrus flavor, all from the comfort of one's own office.
Created from the combination of 360° virtual reality videos and Givaudan's proprietary Virtual Aroma Synthesizer (VAS) technology, Virtual TasteTrek Citrus is a revolutionary tool with both educational and inspirational applications.
With a large selection of educational content available at their fingertips, users can explore the groves while developing their expertise on various topics, such as the origins of citrus, different varieties and sensory attributes or the challenges faced by the citrus market.
Beyond education, Virtual TasteTrek Citrus is also about sparking inspiration: during the experience, users can sample selected flavors, increase or decrease key notes and start co-creating their own flavors.
The ability to provide the virtual grove experience while engaging the users' olfactory senses and their own creativity makes this technology one-of-a-kind.
"Experiencing first-hand some of the unique and surprising aroma profiles the fruits have to offer helps our customers unleash their creativity," said Dawn Streich, global product manager for Citrus at Givaudan. "Commercializing on-trend beverages with increasingly shorter time-to-market is a challenge that every manufacturer must face. By combining Givaudan's knowledge on more than 250 citrus varieties with the latest digitalisation technology, Virtual TasteTrek Citrus helps create beverages that stand out on the market, in a shorter time frame."