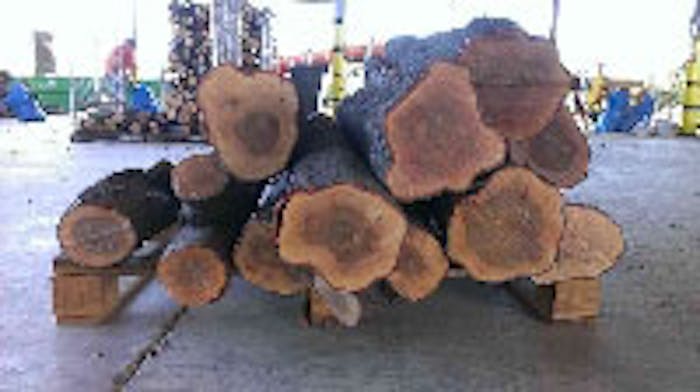 The board of TFS Corporation Ltd. has provided an update on the timing and expectations for its first harvest of Indian sandalwood plantations.
The first harvest of Indian sandalwood from plantations established in Kununurra, Western Australia, is now underway. The first harvest will consist of approximately 144 hectares of sandalwood trees that were planted in 1999 and 2000. These were part of the company's initial sandalwood projects entitled the East Kimberley Sandalwood Project No.1 (EKS) and TFS Sandalwood Project No.2 (TFS2) and also include an area planted for TFS' own purposes.
TFS said this harvest will represent a key milestone in the company's development and will provide the next step in establishing TFS future as a producer of value-added products from its sandalwood reserves.
As planned, on Sept. 3, TFS started its first commercial Indian Sandalwood harvest of 30 hectares on the East Kimberley Sandalwood Project No.1 (EKS) planted in 1999. The company said all planned harvest processes went well. So far five hectares of TFS-owned trees have been harvested and all recovered heartwood and sapwood have been transferred from the harvest site to the primary processing center on Packsaddle Road. The newly constructed primary processing center had its first opportunity to function as a grading, sorting and preparation facility. As the first trees harvested are owned by TFS, the graded logs will now be transported to the Mt Romance facility in Albany where they will be processed into high quality oil for sale to the fine fragrance and pharmaceutical industry.
The harvest volumes are in line with TFS' estimation for the EKS harvest. The company said it's very pleased with this initial start to the harvest program and the first 30 hectare harvest is expected to be completed in October 2013 with the balance of about 114 hectare to commence after the wet season in April 2014 and conclude by June 2014.
This initial harvest should be completed prior to the start of the wet season in Kununurra, which normally occurs in October/November. This will enable the TFS harvesting team to put into effect over 12 months of planning and to identify further efficiencies to be gained prior to the larger harvest after the wet. The remaining land (about 114 hectares) will be harvested after the wet season subsides.
Harvesting Procedure TFS has acquired about $600,000 in capital equipment for use in the harvest and commissioned a primary processing center in Kununurra which enables TFS to capture greater value. It is expected that the entire harvest produce will be in a form to sell by no later than September 2014.