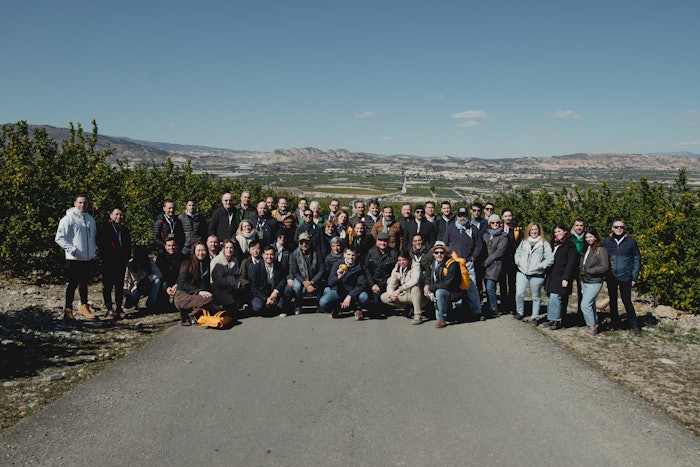 C/O IFEAT
Following several postponements due to the pandemic, IFEAT's first Focus Study Tour (FST) was held from February 27 to March 1, 2023, in southern Spain. Compared to the previous 12 IFEAT Study Tours, which were country orientated, the objectives of this first IFEAT FST were:
●      To focus on one major product: Lemon
●       Centered on one location: Murcia
●       A shorter duration of three days
●       Lower cost
●       Appeal to a wider range of participants in the F&F industries
●       Provide an overview of the lemon sector with visits to lemon orchards—both traditional and organic—as well as packing and processing operations alongside detailed briefings about the sector.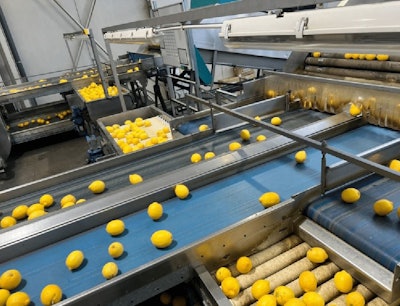 So, on Sunday, February 27 some 32 participants from 23 countries met up in Murcia for a whirlwind tour of the Spanish lemon sector. The delegates covered a wide range of ages and positions, including owners, CEOs, managing directors, technical, marketing, research and laboratory staff—but all were involved in essential oils in some way. It was a very mixed group that bonded together very well throughout this short tour.
IFEAT, with Sofia Lluch Chair of the Local Organizing Committee, organized the tour alongside AILIMPO (The Spanish Lemon and Grapefruit Interprofessional Association) based in Murcia and representing all the major stakeholders in the Spanish lemon and grapefruit industry. The FST illustrated what an important role a trade association can play in bringing an industry together and promoting its activities both nationally and internationally. AILIMPO, along with some of its major lemon-producing and processing members, was a key factor in making the tour such a great success.
In a post-tour questionnaire, every delegate rated each component of the tour very highly, whether it was the farm and company visits, the detailed AILIMPO presentation or the meals to the overall organization. A range of superlatives was given including but not limited to: 
●       incredible first entrance into the wider world of essential oils 
●       a true eye opener
●       how wonderful and rich Murcia and the region are in terms of industry, nature, culture, and gastronomy
●       nothing but praise and awe for the organizers
●       such a wonderful well organized and fruitful FST
On arrival, the delegates received their delegate bag containing tour briefing documents and information and gifts from several lemon companies. Then followed a lively Welcome Reception at which the delegates met up (many for the first time) along with representatives of AILIMPO and the lemon companies to be visited during the following two days.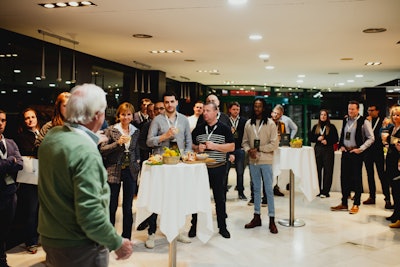 The next day began with an excellent wide-ranging presentation titled Sustainability and Global Strategy of the Spanish Lemon Industry by José-Antonio Garcia, the director of AILIMPO. Topics covered included past, present and future production trends (including organic), carbon and water footprint, sustainability, climate change and regulatory issues.
This was followed by visits to two lemon farms and a packing plant. El Aguilucho is a conventional orchard of 75 hectares producing both fino and verna varieties. Finca Comarza produces three varieties of organic lemon on 208 hectares, producing lemons throughout the year. A key takeaway from the visits was the scarcity and expense of water, accounting for approximately 25% of production costs. Innovative irrigation and water conservation systems using photovoltaic solar energy had been installed. Delegates were also informed about the integrated pest management, quality protocols, organic and mulching techniques, the use of shading to increase and extend yields, conservation of native flora and fauna and the substantial investments needed to achieve sustainability and research projects. Then followed a visit to one of the eight Natural Fruit Company's packing operations. The company's total annual capacity is 400,000 MT of fruit, obtained from both its own 3,000 ha of farms and 2,000 associated farmers. 
The final day was devoted to lemon processing with five major processing companies opening their operations. Most were family owned and each delegate visited two of the following companies: Citricos De Murcia (CIMUSA), Citromil, Fruit Tech Natural, Miguel Parra E Hijos and Riverbend España. Each company gave an introduction to their operations followed by delegates being shown the flow of lemons through the plant from arrival through washing and sorting, processing and packaging the oil and other products, visits to the companies' laboratories, and quality control and testing facilities. In addition, some companies showed the innovative research they were undertaking to produce a wide range of citrus end products.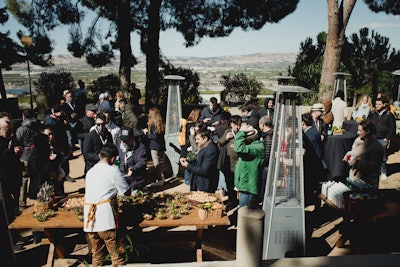 While the FST focused on the technical aspects of the lemon industry, there was also an excellent introduction to local gastronomy with lemon playing a key role. On the farm visits the outdoor lunch was a paella show by a well-known chef. Then followed an amazing evening, where teams of delegates under the watchful eye of MasterChef Arnau Paris, competed to produce a starter, main course and dessert, often with a lemon theme. The following evening saw a superb final dinner at the Michelin-starred Alma Mater Restaurant by chef Juan Guillamón, who created an ad-hoc menu with a lemon focus.
This was another outstanding IFEAT study tour from both an educational and entertainment perspective. Thanks to the considerable efforts of AILIMPO and its members within the space of just three days, delegates obtained a deep understanding of the lemon business model in Spain, from growing and producing essential oils—and being done with passion, love, and considerable effort by a great group of companies and people. The first IFEAT FST was a great learning experience as well both enjoyable and unforgettable. Two further Study Tours are planned in 2024, be sure to visit www.ifeat.org for more details.