Despite being from the same botanical variety, Mentha piperita oil from the Yakima Valley in Washington state tastes different than the oil from the Willamette Valley in Oregon. To discuss how region impacts mint's flavor, Richard Pisano, Jr.; president of Citrus and Allied Essences Ltd., will present on the subject on Innovation Stage at Flavorcon 2019.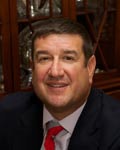 During his presentation, he will discuss the differences between these two regions and share samples and analytical insight into why they taste different. 
What is Flavorcon?
Flavorcon is a global, interactive conference and expo designed for scientists, flavorists, product developers and consumer packaged goods companies in the flavor creation and food & beverage industries.
Presented by Perfumer & Flavorist magazine, this uniquely tailored event will dive into organoleptic science & technology, ingredient trends, market insights, and product development. All presented by global thought leaders in the industry.
This two-day event will include a conference, an exhibition hall with 40+ booths and numerous networking opportun­­­­­­­ities. Attendees will gain industry insight and knowledge to create innovative flavors and sensory experiences in food and beverage products.