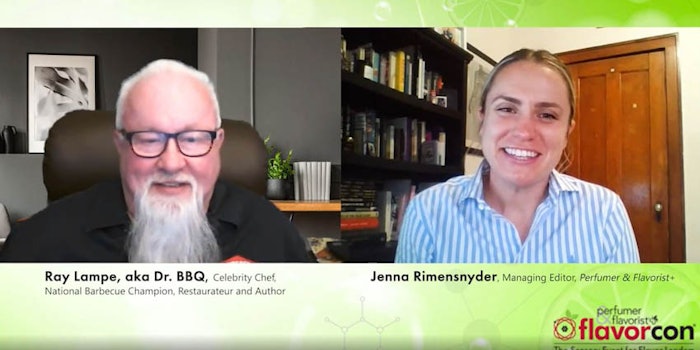 Flavorcon Virtual 2021 is just days away. If your schedule is jammed packed during the show days—November 16-17—don't sweat it! All registrants can catch all of the sessions on-demand until January 26, 2021.
The global, interactive conference is designed for flavorists, product developers, R&D leaders, food scientists and consumer packaged goods professionals.
Meet the speakers:
Ray Lampe, aka Dr. BBQ, celebrity chef is welcome guests alongside moderator, Jenna Rimensnyder
Dmitry Bachin, Ph.D., bioprocess and software engineer, EV Biotech
Eric Besset, business manager, Natural Flavor Ingredients, IFF
Robin Boyle, sensory lab manager, Kalsec x Shane T. McDonald, Ph.D., principal flavor chemist, Kalsec
Luke Grocholl, Ph.D., head of food regulatory experts, Millipor­eSigma
Stephanie Mattucci, CFS, associate director, Global Food Science, Mintel
Judith Michalski, senior flavorist, Abelei Flavors
Tony Moore, chief flavorist and chief innovation officer, Flavor Producers LLC
Annalisa Nash Fernandez, intercultural strategist, BecauseC­ulture
Kurt Nordman, director, Citrus Ingredients and Specialties, Citromax Group
Gary Reineccius, professor emeritus, University of Minnesota
Nadji Rekhif, Ph.D., senior flavor scientist, Nestle Development Center
Paul Ricciardi, principal flavorist, Campbell soup Company
Gena Tiesch, industry manager, Beverage, FONA International x Molly Zimmerman, innovation manager, Beverage, FONA International
Katja Tiitenen, Ph.D., director, Sensory & Consumer Insights (SCI) Flavors Division EAME, Symrise
John Wright, independent flavorist & author
Marie Wright, president, Creation, Design & Development and Chief Global Flavorist, ADM
For more information on all of the Flavorcon 2021 sessions, you can visit www.flavorcon-virtual.com.