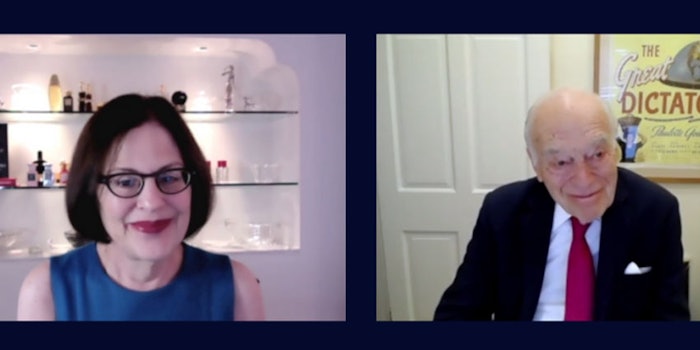 The Fragrance Foundation (TFF) hosted its first virtual Masterclass on Dec. 15, 2020. The Masterclass featured Leonard Lauder, chairman emeritus and former CEO of The Estée Lauder Companies.
Timing of the event was based on the recent release of Mr. Lauder's memoir, "The Company I Keep: My Life in Beauty." All proceeds from the book sales will be donated to charity.
Fragrance Foundation president Linda G. Levy sat down with Mr. Leonard Lauder for a wide-ranging discussion about leadership, life lessons, family and fragrance. Incorporating questions from TFF Notables as well as from industry executives who have worked closely with Mr. Lauder over the years, the conversation spanned Mr. Lauder's life, from the role he played in building The Estée Lauder Companies to the challenges and triumphs of navigating an ever-changing fragrance market.
Previously: Dominique Ropion Celebrates TFF Lifetime Achievement Award with Bespoke Scent
"It was truly an iconic Masterclass with Leonard Lauder," said Linda G. Levy, president of TFF. "The fragrance community's connection, as well as our personal history together, made the discussion heartfelt as well as educational. It was evident why Mr. Lauder is known as the chief teaching officer as he shared his leadership lessons with us."