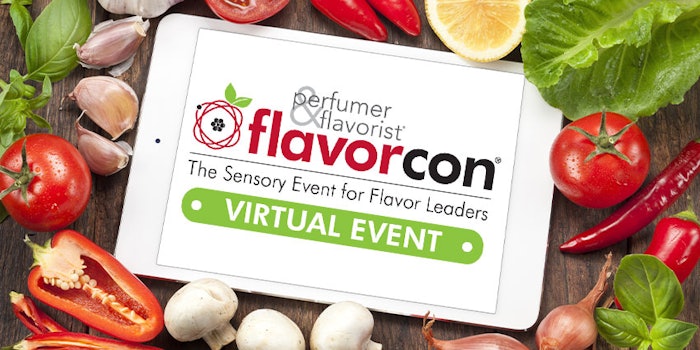 Did you miss out on Flavorcon Virtual? We have great news: on-demand access to all sessions is still available through Friday, Jan. 22, 2021, by simply logging in with your existing credentials or creating a new registration here.
Registration is coming to a close on Jan. 22, 2021; however, the programs will be on-demand until Feb. 05, 2021.
Flavorcon Virtual featured eight conference sessions which explored a variety of unique challenges facing the flavor industry today including flavor formulation for top trending items, such as plant-based meats and better-for-you snacks, creativity in flavor creation, psychological impacts on taste, the role of a flavorist in a CPG and, of course, the impact of COVID-19 on the industry. 
Regulatory Professionals Navigating the COVID 19 Regulatory Environment presented by Nancy Higley, Ph.D. of Regulatory Connections, LLC.
Creating Fresh Ideas at La Colombe presented by Laura Christian of La Colombe Coffee Roasters.
Transportive Flavors Are The Escape Consumers Need presented by Stephanie Mattucci of Mintel.
The Value of a Flavorist at a Consumer Package Goods Company presented by Paul Ricciardi of Campbell Soup Company.
The Rise of The Meatless Juicy Burger: From Precooked to Post-Cooked Burger presented by Dr. Nadji Rekhif of Nestlé.
The Palette of Psychology: Practical Persuasion to Ethically Influence and Devilishly Delight presented by Ori Geshury of the Aqua Vitae Institute.
Flavor Forward: The Future of Flavor with MIT presented by John Wright, independent flavor consultant.
Cookies, Snacks and the Impact of COVID-19 presented by Meredith Keiling of Campbell Snacks. 
To register, click here.
To access a session you have previously registered for:
Click on your session of choice

Log in using your registered email address to access talks.
For any registration or login questions, please contact Marissa at mesposit­o@​allured.​com.