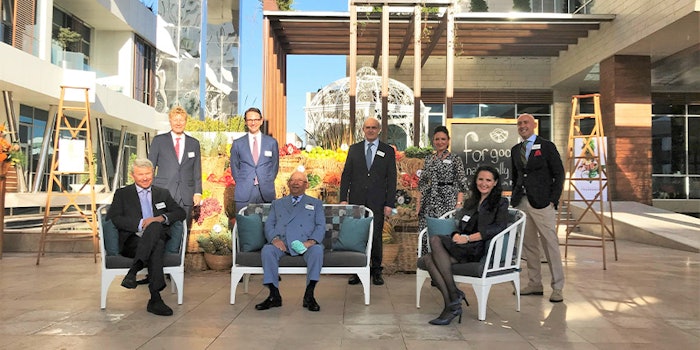 MG International welcomed Firmenich to its headquarters in Istanbul to mark its alliance after announcing its joint venture, in November 2019.  
Related: Firmenich and Novozymes Launch TasteGEM SWL with Saphera Lactase
Visiting guests included: chairman Patrick Firmenich, CEO Gilbert Ghostine, president global perfumery Ilaria Resta and SVP consumer fragrances Felix Frowein. 
The itinerary featured exchanges with the local management team, executives and perfumers, as well as a tour of the facility and visit to the factory.
The visit included an outdoor welcome reception in the courtyard of MG International, where a 200 m2 open-air tent was installed to ensure 2.5 meters of social distancing between the participants. 
MG collaborated with Cordon Blue Chef Ufuk Ügümü of Kruvasan for a custom-made selection of croissants and foods, Sunday Cafe Team and Juiles Meinl for coffee, and Macrocenter featured in the open air food stands and the fresh juice bar.
MG International CEO Aslan Gülçiçek said, "It is a great honor for myself, Mişel Gülçiçek, Sibel Gülçiçek and Ahmet Baydar to welcome Patrick Firmenich, Gilbert Ghostine, Ilaria Resta and Felix Frowein in person, during these very unusual times of global pandemic. This gathering is a once-in-a-lifetime opportunity that embraces both our families and organizations. Our team created a unique environment for our guests, allowing them to feel safe and comfortable while enjoying their visit to our facilities. Our main intention was to celebrate this unique occasion and create many joyful memories to reinforce our alliance."
Firmenich CEO Gilbert Ghostine said, "Patrick, Ilaria and I were delighted to engage with our new colleagues at MG International in Istanbul, including Mişel Gülçiçek, Aslan Gülçiçek, Sibel Gülçiçek and their team and visit their impressive facilities. Firmenich and MG International share the same passion for creative perfumery, a common culture of lasting relationships with our customers, and enduring family values. Just three months after we closed our agreement, our collaboration is excellent and we are building winning synergies for our customers. This is a great start to our journey together!"