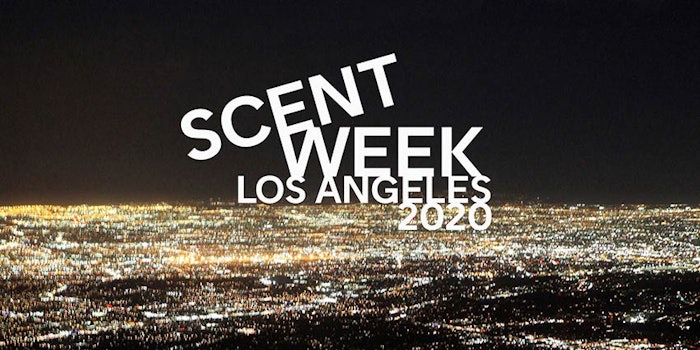 The Institute for Art and Olfaction (IAO) has announced its first Scent Week, a city-wide celebration of all things olfaction for Los Angeles. The events will take place from May 7 to May 14, 2020 at venues throughout the city.
Scent Week is designed to highlight and celebrate the thriving independent practices in perfumery.
With a focus on West Coast practitioners, Scent Week celebrates the local while welcoming and celebrating the international people and movements that inform and feed the creative perfume scene.
The celebration will be anchored by the IAO's core curated programs including the 7th annual Art and Olfaction Awards, the 3rd Biennial Scent Fair and the 4th annual Experimental Scent Summit.
Also featured in the event will be community-oriented, perfumer-led programs such as open studios, talks, scent walks, workshops and more.
The diverse roster of programming will create new audiences for independent perfumery, and highlight excellent and original work being done in the field.
Participation Opportunities
There are three immediate opportunities for participation, open to independent perfumers on an international and local level, as well as for olfactory artists, thinkers and members of the greater creative community.
Taking place between May 8 – 10, 2020 at Craft Contemporary in Los Angeles, the 3rd Biennial Scent Fair LA aims to introduce new audiences to the world of highly conceptual scents. Produced in partnership with Darin Klein, Biennial Scent Fair LA presents independent perfumers with an opportunity to show work to new audiences, get to know their colleagues in the industry and celebrate the exciting work being done globally with scent.
The 4th Experimental Scent Summit is an annual event that takes the form of informal talks, round tables and workshops relating to experimental practices with scent. A relaxed and conversational meeting of olfactory artists, perfumers, culture theorists, writers and more, the summit is an environment where participants can share their work and discuss their issues in an open and unrestrained environment. Produced in partnership with Klara Ravat, the Experimental Scent Summit takes place on May 8 at FIDM in Los Angeles.

The IAO presents a day-long, self-directed exploration of the manifold practices in LA's thriving independent perfumery scene. Meet at the IAO to get your map and take a wander to meet the perfumers that make LA their home! It's free to participate, and self-directed, and a printed guide of all the participating studios and spaces will be published by IAO.