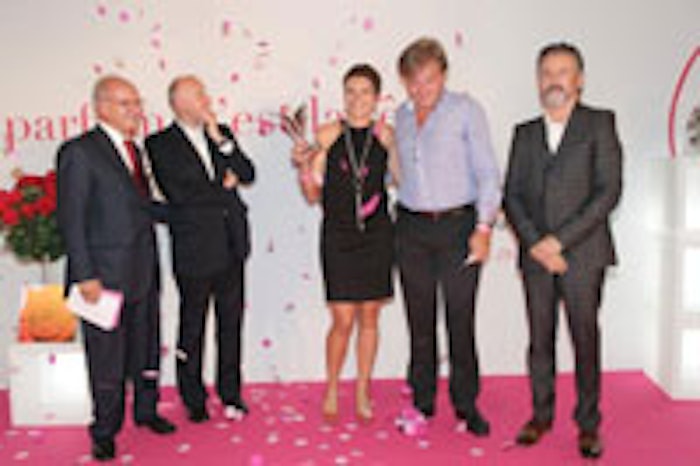 About 400 fragrance professionals celebrated the 70th anniversary of the Société Française des Parfumeurs (SFP) in Paris, marked by perfumer Virginie Armand receiving the 2012 International Perfumer-Creator Award and rose-themed presentations. 
"An anniversary is worth celebrating only if it opens bridges to the future," said Patrick Saint-Yves, president of the Société Française des Parfumeurs.
Held at Hôtel Potocki, headquarters of the Paris Chamber of Commerce and Industry, the Sept. 27 event included a presentation by Pierre Nuyens, perfumer and vice president of the SFP, Maurice Jay, who serves as both vice president of the World Federation of Rose Societies and president of the French Rose Society, and Pierre Orard, a rose breeder who developed a new variety of roses and president of Roseraies Orard. Drom Fragrances created a scented candle called La Rose du Palais Potocki (The Rose of Potocki Palace) especially for the event.
Patrick de Vilmorin, SFP vice president, and Dominique Ropion, chairman of the judges panel and perfumer at IFF, shared the stage with Virginie Armand, a perfumer at Argeville in Mougins, France as she received the 2012 International Perfumer-Creator Award, which Patrick Saint-Yves presented on behalf of the SFP.
The prize winner's theme of Le Parfum, C'est la Fête! (Fragrance is a Celebration) was based on keywords like conviviality, lightheartedness and carefree fun. Her initial idea was to evoke sweet candy, making it even lighter by blending it with the tart notes of cola.
She concluded, "Imagine a martini glass in which you mix rum and cola. Then on the toothpick, you put pieces of candy instead of an olive. That gives you an idea of the concepts I wanted to convey in my fragrance for Le Parfum, C'est la Fête."