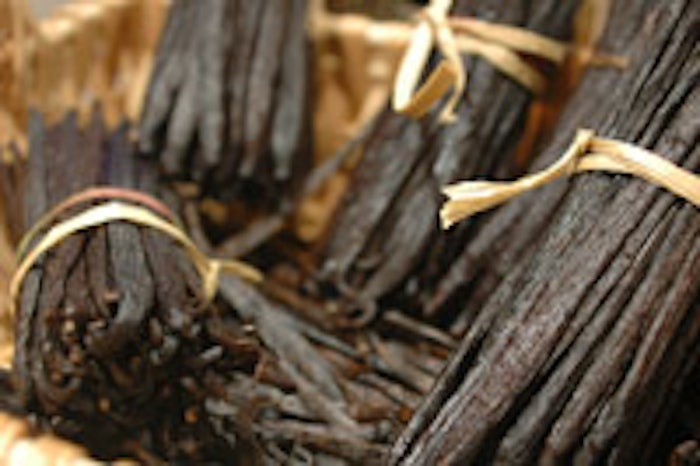 More in vanilla.
Vanilla 2009, the fifth biannual conference, was held recently in Jamesburg, New Jersey. The conference was themed "Vanilla Diseases" in response to recent reports of widespread Fusarium among vanilla vines in Madagascar—a region that has historically produced about 70% of the world supply of vanilla beans. The event addressed both the causes of and possible solutions to vanilla disease, including physical remedies, biological controls and genome enabled technologies.
Read Day 1 presentations here.
Day 2
Vanilla Down Under
Richard Exeley of Australian Vanilla Bean opened day two of the conference with an overview of vanilla production in Australia. Australia has long been a relatively large consumer of vanilla extract, but its entry into vanilla bean production is a recent development. Exeley explained that while this initiative is still in its infancy, with just 200 kg of total production expected this year, it does include some interesting variations on the normal vanilla model. The vanilla production in Australia is completely vertically integrated, Exeley explained, with farmers growing, curing, packing, branding and selling vanilla directly to chefs and gourmet delicatessens. In the future, he foresees the introduction of branded, single-estate extracts targeted at upscale consumers.
The Mycorrhizal Connection
The next speaker of the day was Paul Bayman from the University of Puerto Rico, who discussed "Mycorrhizal relationships of wild vanilla plants and their implications for vanilla cultivation." Referring to mycorrhizae as symbiotic relationships between plants and fungi and a common concept in nature, Bayman cited examples of orchids that typically need the fungi to assist in seed germination, and mycorrhizal fungi that have been effective in preventing plant disease (including Fusarium) in tomato and tobacco plants. Sadly, though, despite the commercial importance of vanilla, very little was known about the crop's interaction with mycorrhizal fungi prior to Bayman's research. The research included isolation of different fungi from the roots of wild vanilla vines collected from Puerto Rico, Costa Rica and Cuba, and their identification by DNA sequencing. The germination studies found that some fungi were significantly better than others in assisting seed germination and promoting growth.
In this backdrop, Bayman suggested that similar field studies could be conducted in other vanilla growing countries with an objective to isolate and identify both beneficial and harmful fungi growing among the roots of vanilla vines. He also suggested using computer modeling to cope with the complexity of the subject and perhaps predict the efficacy of specific genera of mycorrhizal fungi in disease control. However, Bayman acknowledged that there is much still to be learned, as the study of mycorrhizal fungi is extremely complex and difficult to predict, and that its relationship with plants is not fixed and often difficult to identify. That said, Bayman's work is a likely promising area for future research.
Genomic Solution to Vanilla Sustainability
Next, Sharman O'Neill, professor of biological sciences at the University of California, Davis, introduced an international initiative to utilize genomic resources for crop improvement and sustainability of vanilla. This initiative seeks to utilize Next Generation Sequencing (NGS) on various species of vanilla to survey the genetic diversity of the crop for specific traits and genes (such as disease resistance, self pollination and improved flavor quality) that could have commercial significance. The project has partnered with CIRAD (See Day 1) from Reunion Island—which has an extensive collection of vanilla species and knowledge of the specific characteristics of each—and hopes to utilize that organization's resources to conduct field studies of improved cultivars with growers in Madagascar.
O'Neill explained that this project has tremendous potential benefits and has the ultimate objective of ensuring the sustainability of the vanilla industry and the impoverished farmers who depend on it, often as their primary source of income. However, she noted that this project would require significant funding, which she hopes to obtain from nonprofit organizations such as the Gates Foundation and The Venter Institute and individual corporations or industry organizations that are associated with the vanilla industry and would ultimately benefit from this research.
Hazards of Monoculture
O'Neill's presentation was followed by a discussion on "The Hazards of Monoculture – Does it Apply to Cultivated Vanilla?" by Chaim Frenkel, professor of plant pathology at Rutgers University. Frenkel explained that while pathogens such as Fusarium and their host plants are in an evolutionary race for survival, vanilla may not be adapting to change as quickly as Fusarium in part because of its limited genetic diversity. Thus, as a result of generations of propagation almost exclusively by cuttings, vanilla is largely a monocultural crop, he said.
Further, to illustrate the potential problems of monocultures, Frenkel showed an excerpt from a documentary film based on the book, The Botany of Desire by Michael Pollan. The film chronicled the history of potato cultivation in Ireland beginning in the 1500s. The potato provided the foundation of the diet for a vast majority of the Irish population, which found that the crop thrived in the poor soil conditions that existed throughout the country. The Irish potato crop was almost entirely based on a single variety—a classic monoculture. In the early 1840s a pathogen believed to have arrived on a vessel from South America infected the Irish potato crop. Within just three years, the potato industry was virtually wiped out and one out of every eight Irish people had died from starvation or related disease.
Although the recent outbreaks of Fusarium among the vanilla vines in Madagascar have occurred at levels never before reported, they have not nearly approached the magnitude of the Irish potato blight. However, the documentary was sufficient for the audience to draw a chilling comparison; the result of these insights are likely to provide new impetus for initiatives like those suggested by Bayman and O'Neill.
Misconceptions vs. Facts
Dwelling deeper into safety concerns of vanilla, Premier Vanilla's Arvind Ranadive presented "How Safe is Your Vanilla?" Explaining a common misconception that the high alcohol content (not less than 35%) of vanilla extract eliminates any microbiological concerns, Ranadive said that many yeasts and molds can, in fact, tolerate a high alcohol environment. However, the water activity levels in vanilla beans and extracts are generally not conducive to pathogenic bacteria growth, he said.
Suspicious that some yeasts and molds could actually be contributing to flavor development during the curing process, Ranadive suggested that high levels of microorganisms in vanilla extract may contribute more to taste, aroma and texture of the product, rather than presenting a toxicological threat. Even so, he pointed out that good sanitation procedures are important during the curing and extraction processes.
Aroma and Taste
The final presenter was Patrick Dunphy, a consultant with more than 35 years of flavor industry experience. In his presentation, aptly titled "Vanilla: It's All a Matter of Taste," Dunphy said that a despite the widely accepted fact that vanilla extract contains more than 250 individual compounds, there is still a great deal to be learned about the contribution each one makes to the overall taste and smell of vanilla. He further highlighted recent studies that shed new light on this highly complex subject. Green vanilla beans have no recognizable vanilla odor, Dunphy explained, adding that it is during the curing process that aroma compounds are formed. Dunphy cited a recent study by A. Perez-Silva published in Food Chemistry that identifies almost 25 of these aroma compounds that are considered to be particularly important. He also explained the chemical pathways either known or suspected to result in the formation of these key aroma compounds.
Turning next to taste and mouthfeel compounds, Dunphy stated that far less is known about them. One such compound is divanillin, which was reported in Perfumer & Flavorist magazine (Gatfield et al.) in 2006 to contribute creamy, fatty character to certain flavors and mouthfeel to certain foods. The study found that these effects were perceptible at the levels of concentration of divanillin in vanilla extract made from Madagascar Bourbon vanilla beans. Another study, published in the Journal of Agriculture in 2008 (Schwarz et al.) identified nine velvety, mouth-coating compounds isolated from cured vanilla beans. At least one of these, americanin A, had not previously been linked to vanilla, Dunphy pointed out.
Dunphy concluded that this area of research provides great opportunities for flavor development in vanilla extract. Once the key flavor and aroma compounds are identified and the enzymatic pathways that lead to their development during curing are understood, one might be able to tailor the curing process to produce more or less of targeted individual compounds.
Summary
Finally, as a summary and conclusion to this two-day conference, Michel Grisoni of CIRAD reviewed many of the potential disease strategies discussed, including biological controls such as mycorrhiza, trichoderma and bacillus. He highlighted intercropping with disease-suppressive plants and genomic initiatives as two potentially promising strategies that could help the vanilla industry. Meanwhile, he noted that in the near term, farmers can help themselves by returning to traditional cultivation techniques, such as avoiding overpollination, providing proper spacing between the vines and maintaining appropriate soil conditions. Grisoni also advocated crop rotation as a traditional and effective method for disease control, which seems to have been largely abandoned in recent years.
The Vanilla Conference 2009 concluded with a unanimous consensus that the event was highly informative, critically important and a "must-attend" future event for anyone interested in or associated with the vanilla industry.
Poster Sessions Presented During Vanilla 2009
Is the vanilla stem rot disease caused by Fusarium and/or phythoptora? A case in a traditional Vanilla growing system in Papantla, Mexico
Bautista-Santiago Juan, Garcia-Espinosa Roberto, Ramos-Prado Jose Maria, Jose Trinidad Vazquez-Gonzalez and Luna-Rodriguez Mauricio
 
Antioxidant Capacity from Vanilla
Maria del Pilar Canizares Macias, Adalith Rojas Lopez
 
Introduction of New Vanilla Growing Region - Tanzania
Lisa Knight CBI Global / Select Products
 
Vanilla Curing Under Environment Controlled Conditions: An Option to Standardize Organoleptic Quality and Inocuity.
Ramos-Prado Jose Maria, Cervantes-Perez Lourdes
 
In vitro germination of Vanilla planifolia and V. pompona hybrids
Rebeca A Menchaca G., Jose M Ramos P., David Moreno M
 
Vanilla Crafts in Mexico
Juan Carlos Botello