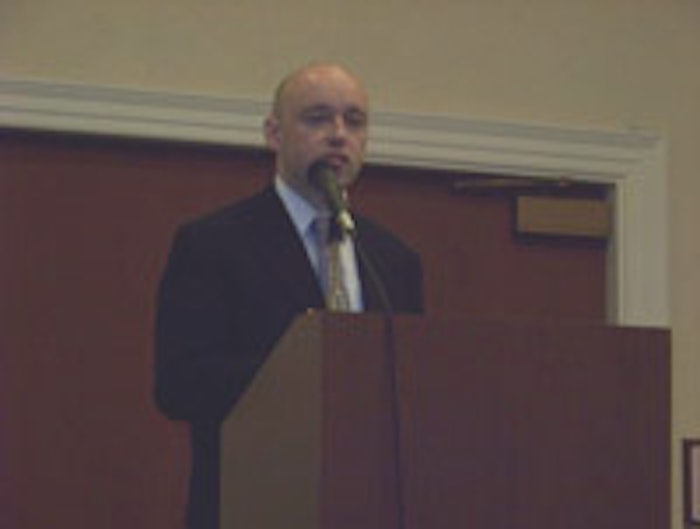 Look for more photos in the April issue of P&F magazine
Facing increasing NGO and legislative attacks both in the US and around the world, the membership of the Fragrance Materials Association took a "first step" vote toward global realignment of the fragrance industry under the International Fragrance Association. In a similar move last December, the European Flavour & Fragrance Association split, aligning is fragrance activities under the auspices of IFRA.
Meanwhile, event speaker Trevor Butterworth (Stats.org) detailed the general failings of mainstream journalists in reporting science stories. Often, he said, non-experts were framed as experts; unsubstantiated, tentative study results were promoted as solid evidence; and facts generally misrepresented or ignored. In fact, he said, most science reporting contained an average of nine factual errors. As a result, said Butterworth, industries such as fragrance must take the initiative to make sure sound science gets into the proper hands – whether by engaging traditional journalists or pursuing alternative channels such as blogs.
Finally, during the meeting, the FMA approved its 2010 board of directors:
Robert Amaducci (Flaroma)
Robert Bedoukian (Bedoukian Research)
Kim Bleimann (Berje Inc.)
Christophe de Villeplee (IFF)
Edward Gotch (Emerald Kalama Chemical)
Theodore Kesten (Belmay)
Peter Lombardo (Robertet)
Michel Mane (Mane)
Simon Medley (BASF Corp.)
Karen Manheimer (Kerry Ingredients and Flavours)
Fred Kritzer (Symrise)
Steve Tanner (Arylessence)
Sean Traynor (Takasago International Corp.)
Bill Troy (Firmenich)
John Vernieri (Givaudan)
Michael Wimberly (Millennium Specialty Chemicals)