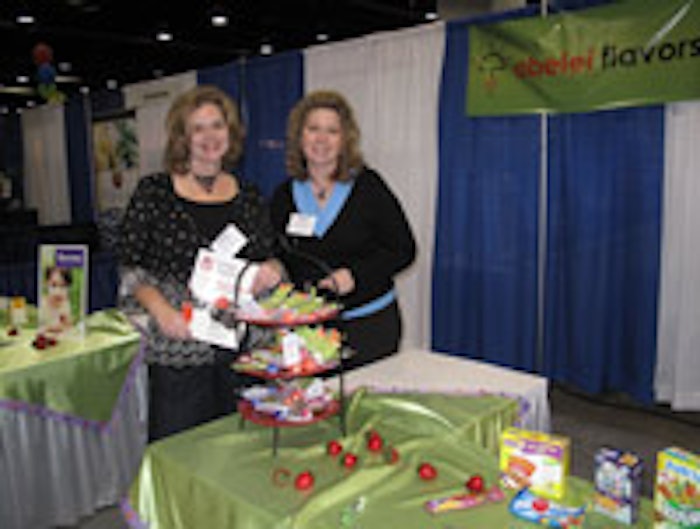 More in event coverage.
The Chicago IFT Suppliers' Night included, in addition to an expo floor, a presentation on flavor modifiers by Mariano Gascon, vice president, R&D, Wixon. These modifier materials, which have little smell or taste, can be used to modify the perception of a food product in order to control costs and/or formulate healthier products featuring less sodium and sugar. Gascon said that one should look at the formula of any product in question and decide what the desired benefit is—sugar reduction, salt reduction, etc.—before deciding on a taste modifier.
He also noted that food spending is decreasing, and this does not mean that people are eating less, but that consumers are more focused on value. Product development, then, has taken advantage of taste modifiers to reduce cost without detracting from taste and extending shelf life by lowering pH. To illustrate, Gascon presented an energy drink demo sweetened with 0.2 g of stevia and one sweetened with 0.1 g of stevia and 0.1 g of Wixon's proprietary taste modifier, which enhances sweetness and reduces stevia's inherent off aftertaste. The latter formulation was natural; heat-, retort- and pH-stable; and with no change in texture.
Gascon further said that nutritional and other health information is becoming one of the key purchasing influences for consumers. This, coupled with growing concerns over sodium levels in consumer diets, has led to a boom in low/no sodium products. In the United States, the recommended daily sodium consumption allowance for those younger than 40 is < 2,300 mg/day; for those over 40 the recommendation is <1,500 mg/day. Despite this, average consumer sodium consumption is 3,400–7,200-plus mg/day. Gascon then presented a potato chip demo featuring 328 mg of sodium from added salt vs potato chips with 164 mg of sodium featuring Wixon's proprietary salt enhancer. The latter demo featured salt flavor featuring up to 50% reduction in sodium, a lack of bitterness/metallic aftertaste associated with potassium chloride, and a lack of impact on the nutritional panel.
In the search for healthier foods, obesity rivals sodium as a driver of product development innovation. Claims of low fat or free of specific fats have also increased significantly in recent years. In this context, Gascon displayed a demo of corn flakes sweetened with 28 g of added sugar vs corn flakes sweetened with 14 g sugar and 0.2 g of Wixon's proprietary sweet enhancer. The latter demo featured sweetness without excess calories, a lack of lingering high intensity sweetener impact, and no change in texture.
Finally, Gascon underscored other key areas of growth in the health claim arena: natural, preservative-free, kosher, additive-free, organic, etc.; in short, "The health and wellness trend is here to stay."