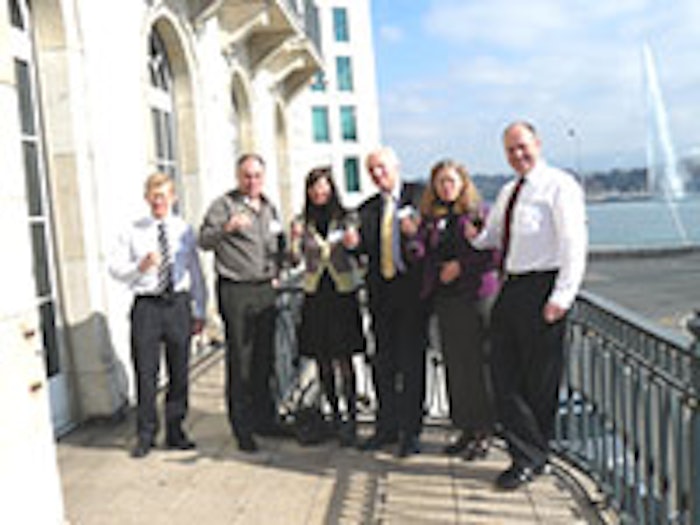 Contact David Baines here.
Natural ingredients were the primary theme at a recent British Society of Flavourists (BSF) event, with display products ranging from fine chemicals to essential oils, concentrates, oleoresins, distillates and yeast extracts. A number of these are highlighted herein. Besides this, organic ingredients and mood and sensation concepts were also featured at the exhibition.
This inaugural roundtable exhibition was held at the Four Seasons Hotel in Geneva, Switzerland on Feb. 25, 2009. Organized by the BSF, it was inspired by a similar event held in North America by the Chemical Sources Association, in cooperation with the Society of Flavor Chemists (BSF's sister organization in the United States). Geneva was selected as the venue of the event due to its status as a focal point of flavor companies with good links to France, Italy, Germany and Austria, and a place of relocation of several BSF members. Designed to provide a relaxing technical forum for flavorists to experience new and existing raw materials, the roundtable featured product presentations from 13 companies.
Another highlight of the event was a stimulating keynote lecture by Ralf Berger of the University of Hannover, titled "From Wine to White Biotechnology—How Microbial Catalysts Generate Natural Flavors." The talk offered an interesting overview of the state of production of flavoring materials using enzymes and microbial catalysts, in addition to the technological advancement and resulting increase in yields of natural flavoring materials—many of which are stereospecific, thus making new processes and their products more economically viable.
Although the delegate turnout at the exhibition was lower than expected—due to the current economic climate and novelty of this concept in Europe—the feedback from delegates and exhibitors was encouraging. The mutual consensus of the attendees to hold this as an annual event echoed its success.
Augustus Oils
Augasorbs: This is a range of extracts derived directly from the botanical source, using a low temperature solvent extraction technique that retains the characteristic suite of aromatic chemicals. Designed as an easier-to-use replacement for traditional absolutes and oleoresins, it is suitable for application in both flavors and fragrances.
Genet: Genet has a novel odor profile. Deep, warm and "brown," it is ideal for use in sweet formulations like honey; it may also find use in savory flavors and beverages.
Basil: A bright, fresh, herbaceous and green aroma, basil Augasorb is appropriate for use in savory flavors and in flavorings such as pesto sauces.
Axxence Aromatic GmbH
Natural trans-2-Hexenal: Green, leaf, citrus, pungent.
Natural Indole: Animalic, flowery.
Natural Pyrazines Mixture No. 20: Nutty, brown.
Natural 2-Ethyl-6-Methylpyrazine: Roasted potato.
Natural Raspberry Ketone: Sweet, berry, jammy, raspberry, ripe, floral.
Natural Styrallyl Acetate: Green, estery.
DSM Food Specialities
Maxavor Chicken YE: A chicken taste with a "yeast extract" declaration. This material is a taste building block focused on producing an authentic chicken taste without added amino acids.
Gistex HUM LS: A high glutamate yeast extract designed to deliver taste enhancement and authenticity. Full-bodied taste; a very broad natural amino acid complex; a tool for flavorists to replace added MSG and achieve authenticity.
Maxarome Select and Maxarome Pure: High nucleotide yeast extracts. Whereas MaxaromeSelect (12% I + G) has a slight savory note, Maxarome Pure (20% I + G) delivers strong taste enhancement without savory notes.
Frutarom Fine Ingredients
Natural Ethylmethylpyrazine (Mixed Isomers): Cocoa earthy, musty, nutty.
Natural 2,5-Dimethyl-3(2H)-Furanone: Caramel, fruity, sweet.
Natural Methane Thiol (1% in Triacetin): Meaty, savory, sulfurous.
Natural Methylthiomenthone: Buchu, blackcurrant, herbaceous, tropical.
Natural (1-Methylthio)-3-Pentanone: Mushroom, earthy, tropical.
Natural 1-Ethyl-2-Pyrrolecarboxaldehyde: Phenolic, apricot.
Natural 2,4,6-Triisobutyl-5,6-Dihydro-1,3,5-Dithiazine (0.1%): Bacon, chocolate, meaty.
Natural 2,4,6-Triisobutyl-5,6-Dihydro-1,3,5-Dithiazine (0.01%): Chocolate.
Kalsec Europe
Aquaresin Chipotle: A balanced extract that delivers the distinctive character, flavor, aroma and pungency of the chipotle pepper, highlighting the full smoky, roasted and dirty earth notes rounded out with a robust heat.
ClearCap Super Soluble Capsicum: A uniquely soluble extract of distinctive pungency. The heat sensation is expressed immediately and intensely at the tip of the tongue, lingering slightly and then finishing clean.
Also displayed: Allium Extracts, Oleoresin Celery and Capsicum Extract.
Lionel Hitchen
Blood Orange Oil Fresh: A concentrated oil with both peel and juice notes. Excellent top note for beverages and useful in other sweet and savory applications.
Tahiti Lime Oil (5x): Full-flavored, fresh tasting concentrated Persian lime oil.
Sesquiterpeneless Tangerine Oil: Highly concentrated dancy tangerine oil for use in beverage and other flavors.
Super Soluble Massoia: Solubilized oleoresin of massoia bark with a high concentration of lactones. Useful in natural dairy, brown and fruit flavors.
Green Ginger Oil: Steam distilled from fresh (not dried) African ginger. Has a citrusy fresh ginger top note.
Chipotle Chili Oleoresin: A solvent extract of Mexican chipotle chilies. High heat content and full meaty, phenolic taste.
Ancho Chili Oleoresin: A solvent extract of ancho (poblano) chilies from Mexico. Mild chili with a dried fruit, tomato character.
Tuscan Herb Oleoresin: A blend of herb oleoresins to give the typical taste of Italian (Tuscan) recipes.
Omega Ingredients
Apple Extracts (Cox & Bramley): One hundred percent from the named variety, showing their distinct character with sweet, juicy and typical English apple flavor from Gloucestershire, England.
Apple Concentrate 2000 Fold: Sweet apple with nuances of cooked and caramel notes.
Apple Booster: One hundred percent FTNF; fresh, green apple with aldehyde nuances.
Apple Oil: One hundred percent FTNF natural oil from apple—intense, green, apple character displaying wonderful top notes of trans-2-hexenal and other green aldehydes.
Banana Oil: One hundred percent FTNF natural oil from banana—intense, fresh, green, banana, not overripe but fresh.
Banana Booster: One hundred percent FTNF; fresh, banana with aldehyde nuances.
Strawberry Aroma Concentrate FTNF: Made from British strawberries and showing a fresh, juicy, strawberry character with buttery nuances.
Cherry Distillate: Typical black cherry with juicy, ripe cherry and benzaldehydic nuances.
Apricot Distillate: Ripe, sweet, juicy, Mediterranean apricot notes with just a hint of almond.
Passionfruit Aroma Concentrate FTNF: Complex juicy, passionfruit, with typical tropical sulfur base notes topped off with a sweet aromatic fruitiness; of particular use in beverages and flavor compositions.
Pineapple Extract FTNF: Sweet, juicy and aromatic, very fresh with powerful allyl hexanoate character.
Mango Extract FTNF: Powerful and aromatic mango, strong tropical influence, but almost perfumistic in the sweet top notes.
Carob Extract: Typical carob chocolate notes with tobacco nuances.
Fenugreek Extract: Sweet, complex, caramel and rich maple character with a hint of spicy Asian cooking.
RC Treatt
Passion Fruit Treattarome: Fruity, sulfurous passion fruit with sharp tropical character.
Honey Treattarome: Honey, sweet-floral with heavy, sugary toffee base notes.
Lime Citreatt: Fruity powerful distilled lime flavor.
Lemon Citreatt: Powerful lemon flavor with balance between sweetness and aldehydic notes.
Sinensal Natural 20% ex Orange: This specialty adds depth to citrus flavor creations. Intense dried orange peel note, aldehydic, natural.
Neryl Geranyl Acetate Natural: Fruity, fatty, apple, orange, pear, melon, floral.
2-Isobutyl-4,5-Dimethyl Thiazole: Green, vegetative; earthy, nutty, geranium, tomato.
3-(Methylthio)Propylamine: Sulfurous, vegetative; ripe cheese in extreme dilution.
2-Methyl-1,3-Dithiolane: Roast onion, cooked garlic flavor.
Ethyl-2-Ethylacetoacetate: Fresh, fruity; burnt-roasted; sweet, heavy, caramellic.
4-Methyloctanoic Acid: "Goaty," sweaty-fatty; so-called "soo" odor of mutton.
2-(Methylthio)Ethyl Acetate: Nature-identical; reported found in fresh apple, melon, apple brandy; description: tropical, melon.
Riverside Aromatics
Natural Hazeltone: Hazelnut, fresh, nutty.
Natural 5-Methyl-2-Phenyl-2-Hexenal: "Heavy," cocoa, vanilla, sweet.
Natural Damascenone: Fruity, plumlike, fermented.
Natural 1-Octen-3-ol ex Mushroom: Powerful "natural" mushroom, earthy.
Natural (d)-γ-decalactone [R-isomer]: Strong fatty-peach.
Natural p-Menthen-8-Thiol 1% in Grapefruit Oil: Extremely powerful grapefruit; synergy with the oil gives less sulfur-rubbery character than when in solvents such as propylene glycol.
Natural 2-Isopropyl-4-Methylthiazole: Green, peach, less sulfurous than the synthetic.
S & D Aroma
Buchu Betulina: From a farming cooperative in the Cape district of South Africa, this buchu oil has unusual and clean aromas. It is cultivated, therefore sustainable, with tonnage available each season.
Buchu Crenulata: From the same cooperative as the betulina.
Pepperment piperita: From India, this piperita is cultivated with organic certification. A further community project is in place in the northeast of India.
Pepperment arvensis: From the same cooperative as the piperita, this oil has a high menthol content.
Sandalwood Eco: This unusual project in Western Australia is producing sustainable, traceable Santalum spicata, but the same project is shortly to produce Santalum album. The "Eco" oil is from fallen or dead trees, whilst the "green" oil is from sustainable sandalwood forests. It is certified organic.
Lime Distilled: This distilled organic lime comes from Sri Lanka, and has a very classical "candy" aroma and taste. It has taken several years to produce this oil, but it is now available in good commercial quantities.
Juniper Needle: We have a project in Nepal, producing both needle and berry oil. Both have very distinctive notes. Sustainable and traceable, the oil is produced by community trade projects in the foothills of the Himalayas.
Rosemary: Verbenone type rosemary has a very soft, distinctive aroma, offering a different dimension to this oil. It is certified organic, sustainable and traceable from community farms in South Africa.
Vanilla Oleoresin: A really exceptional organic vanilla from a small project in Madagascar, it is available in commercial quantities.
Sensient Flavors
Lemon Terpeneless Sicilian C1967 (Countercurrent Extraction): A pale yellow oil containing a very strong natural aroma and flavor profile of lemon Sicilian.
Mandarin 5 Fold C2378 (High Vacuum Distillation): A clear orange-red colored oil, with a clean, fresh, concentrated natural aroma and flavor of mandarin.
Ginger Nigerian C1509 (Liquid CO2 Extraction): This product offers a unique concentrated pungent natural flavor and aroma profile of Nigerian ginger.
Vanilla Absolute Madagascan C1577 (Liquid CO2 Extraction): The dark colored components typical of traditional vanilla extracts are not extracted by the CO2 process, resulting in a pale yellow colored product of high vanillin content.
Honeybush Tea C2688 (Liquid CO2 Extraction with Entrainer): A clear yellow-green alcoholic solution with a very distinctive and unique aroma.
Cucumber C2358 (Solvent Extraction and Distillation): A yellow-green liquid with the full natural flavor profile of cucumber in a highly concentrated form with characteristic green notes.
Garden Mint C2791 (Liquid CO2 Extraction with Entrainer): Rich strong flavor and aroma of mint in a concentrated form.
Symrise
Carvomenthone: A nature-identical flavoring substance which occurs in Mentha arvensis and native spearmint. With its woody, herbal, spearmint and light cooling character with a green minty nuance, this clear colorless liquid is recommended to use in mint, spearmint, tea and peach flavors.
Dehydro Menthofurolactone: Nature-identical flavoring substance that intensifies the lactone, coumarin, sweet or coconut character of all mint, coumarin, tropical fruit and brown flavors.
Sabinene Hydrate trans: A nature-identical flavoring substance with a minty, herbal, terpenelike and eucalyptus character—in crystals useful in mint, herb and citrus flavors.
Vinylguaiacol Natural: Sweet, spicy, clovelike, smoked and phenolic character. This clear, colorless to pale yellow liquid is recommended to use in all vanilla, whiskey, rum and chocolate flavors.
Buchu Leaves Distillate: A distillate of buchu leaf oil with an interesting sulfurous, buchu and herbal character. This pale yellow to yellow-brown liquid to crystalline product is recommended for black currant, peach and other fruit flavors especially in beverages, confectionary and dairy products.
V Mane Fils
Pink Pepper Jungle Essence Extract: Spicy, peppery, floral with a terpenic, peppery, fruity grapefruit taste; performance: "smart and sporty."
Ginger CO2 Extract Top Note: Spicy, citrusy, prickly with a woody, spicy citrusy taste; trust: "sensual and loving."
Lavender Absolute: Aromatic, herbaceous and floral with a floral, gourmand, herbaceous taste; freedom: "peaceful and silent."
Rose Absolute Turkish, Molecular Distillation: Floral, powdery, fruity with a floral, herbaceous, candied taste; sophistication: "beautiful and happy."
Bergamot Essential Oil (Furocumarin-Free): Citrusy, fruity, aromatic with a floral, terpenic warm taste; health: "natural and refreshing."