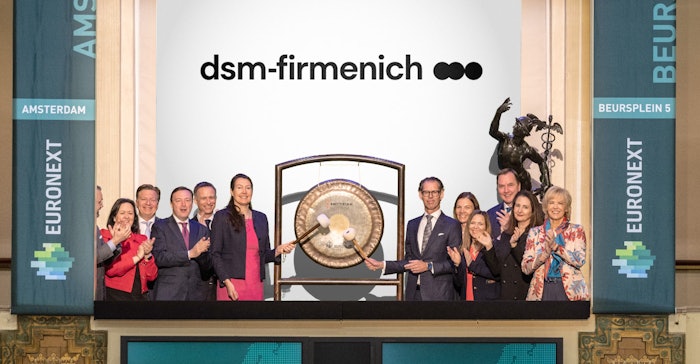 dsm-firmenich media
dsm-firmenich has confirmed the completion of its acquisition of Adare Biome, a developer and manufacturer of postbiotics. The acquisition was first announced on April 19, 2003, for an enterprise value of €275 million. 
Related: dsm-firmenich Holds 2023 General Meeting 
According to dsm-firmenich the transaction represents an estimated 2023 EV/EBITDA multiple of 18x.
On June 28, 2023, the company provided pro forma consolidated figures, an update on trading for Q2 2023, together with an outlook for full year 2023. In addition, it announces the acceleration of initiatives to structurally improve its performance in vitamins.
dsm-firmenich shared that the second quarter has seen a further weakening of the vitamin markets, predominantly impacting the performance of Animal, Nutrition & Health, and therefore also affecting the expectations for the company for the second half of 2023.
In response, dsm-firmenich has decided to accelerate a series of actions to restructure its vitamin business. This will result in increased earnings quality and a reduced exposure to vitamins and related earnings volatility.
The press release reads, "The merger of DSM and Firmenich created a world-leader in nutrition, health, and beauty, which through its highly integrated portfolio of nutritional, natural, and renewable ingredients, together with complementary science capabilities and technologies, will deliver superior innovation-led growth. Together with the actions announced today, the company remains confident in achieving its mid-term financial targets."