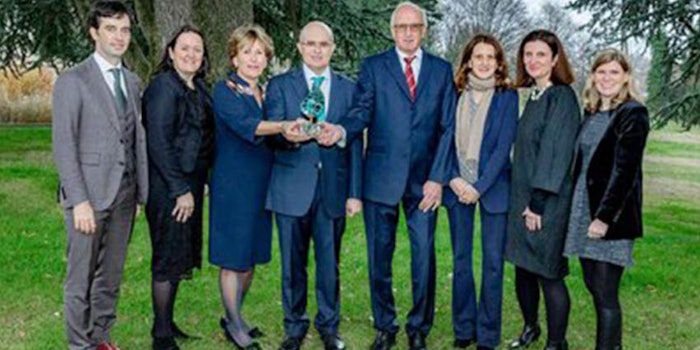 Perfume and flavor company, Firmenich, has announced it is the first recipient of the IMD-Pictet Sustainability in Family Business Award 2019. A jury selected Firmenich out of 60 entries, which either applied or were nominated.
Previously: Firmenich Creates the Scent & Tatse of Patone's Classic Blue
The award, which was presented by IMD, an international business school, and Swiss bank Pictet, acknowledges family-owned enterprises with an international breadth that embodies excellence in sustainability.
Previously: Firmenich Posts FY 2019 Financials
Judges applauded Firmenich for inspiring other companies to rise to its own sustainability standards. One of the company's demonstrated impacts include its CDP triple 'A' ranking this year, which makes Firmenich one of two companies globally out of 7,000 to achieve the status.
Selected for its long-term business approach, proactive communications and, most of all, its sustainability strategy, the jury commended Firmenich for tackling social and environmental issues, including climate change, biodiversity, inequality, nutrition and sanitation.
Firmenich's inclusive capitalism business model allows the company to create long-term value for its stakeholders, including the planet, and further impact results from its partnerships with customers, foundations, academic institutions and so on.
"On behalf of all the members of the Firmenich family, it is an honor for our company to be the inaugural winner of the IMD-Pictet Sustainability in Family Business Award," said Patrick Firmenich, chairman of the Firmenich Board. "Since Firmenich was created in 1895, we have nurtured a unique legacy of responsible business: it's about doing what's right for our planet, communities and our business to thrive together."
"In a world where many companies and executives are wondering whether it is possible to do well (financially) by doing good (for the world), family enterprises such as Firmenich set a fantastic example to the rest of the corporate world as trailblazers in sustainability and real impact," said IMD president Jean-François Manzoni. "When sustainability is a core part of your organization's purpose and strategy, and then it becomes a part of your company's culture, the benefits in performance and broader impact speak for themselves."
"Firmenich's sustainability credentials are exemplary and have been applauded by the judging panel as the company is actively delivering on its ambitious sustainability goals," said Rémy Best, managing partner of the Pictet Group. "Firmenich works with vigor and outstanding expertise to conduct its business in the most responsible way possible."