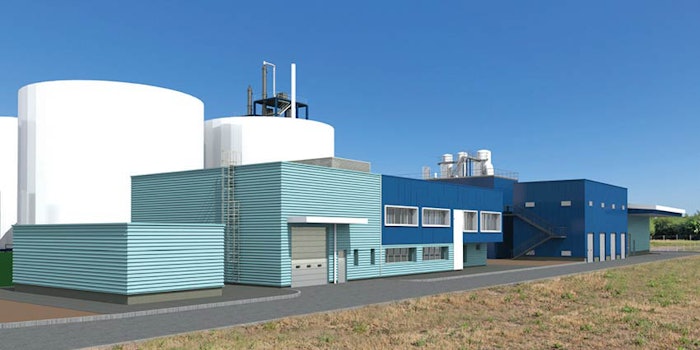 Afyren, a biotechnology startup, has begun construction of its first industrial-scale factory, Afyren Neoxy, for the green chemistry production of organic acids, including acetic acid, propionic acid, butyric acid, isobutyric acid, valeric acid, isovaleric acid and hexanoic acid. The materials will have application in the cosmetic, perfume, flavor, pharmaceutical and fine chemicals sectors.
According to the company, the acids relevant to flavors qualify as "natural flavoring substances" per EU regulations and as "natural flavorings" according to the U.S. Federal Food, Drug, and Cosmetic Act.
Afyren's natural acetic acid has been certified as 100% biobased under the USDA's Biopreferred Program. The company's range of acids are categorized as chemically processed agro-ingredients under the COSMOS standard and are Ecocert-approved.
The zero-waste, low-carbon site, based in Carling/Saint-Avold, France, will generate the organic acids by fermenting sugar beet by-products, including pulp and molasses, using non-genetically modified microorganisms.
The choice of biomass allows Afyren to produce materials without competing with food crops. The biorefinery is scheduled to begin production in early 2022 and will produce 16,000 tons of the biobased organic acids annually. 
The zero-waste facility will reportedly reduce CO2 emissions by 66%, compared to petroleum-based acids. According to Afyren, the site will not require external water consumption, and all by-products "will be put to good use."
The facility's process was initially described in a 2014 publication by founder Jérémy Pessiot, Ph.D.
Once operational, the site will produce a range of acids according to the FSSC 22000 Standard, and its products will be GMP+ certified. Afyren will also pursue kosher and halal certifications for all acids.
Afyren is led by Nicolas Sordet and employs 35 people at sites in Lyon, Clermont-Ferrand and Carling/Saint Avold, France. The company has raised more than 80 million euros in total funding from public and private sources to date.
The Afyren Neoxy subsidiary is led by Jean Saint-Donat and represents a joint venture with Bpifrance's SPI fund, which holds a 49% stake. Afyren holds the remaining 51% majority stake. 
The project has also received a 20-million-euro-subsidy via the European public-private partnership platform "Bio-based Industries Joint Undertaking." Total provided operational support for the project through its Total Développement Régional (TDR) entity, facilitating the installation of the future plant on the Chemesis industrial platform. 
Afyren Neoxy will reportedly create about 60 direct jobs and as many as 200 indirect jobs in the industrial and construction/engineering sectors.