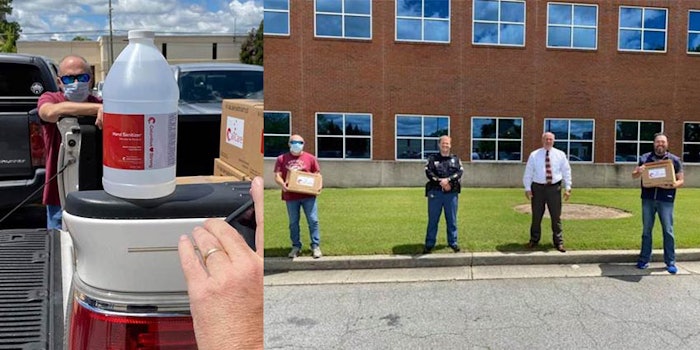 Revlon Inc. and Symrise have announced a partnership to support local efforts to tackle the COVID-19 pandemic by leveraging their long-standing relationship to develop, manufacture and distribute hand sanitizer.
Previously: Revlon Shares Fall More Than 2% Amid Restructuring Plans
Looking for ways to support communities in the pandemic, Symrise rapidly re-engineered manufacturing lines to enable the production of a new, FDA compliant formula, while Revlon leveraged existing packaging to bring the product to hospitals and frontline medical workers as quickly as possible.
Previously: Symrise Joins KitchenTown Berlin to Accelerate Startups' Market Entrance
Both companies are working with local governments to support those most in need near Revlon's Oxford, North Carolina, facility as well as Symrise's Teterboro, New Jersey, facility.
Related: FDA Permits Compounding, Alcohol-based Hand Sanitizer Production
Products will be distributed to hospitals, frontline county workers, police and fire departments, and EMS personnel through North Carolina's Healthcare Preparedness Coalition and The Chief Officer of Bergen County's Executive Branch.
Additionally, Califormulations LLC has started production of hand sanitizer at its Columbus, Georgia, facility and will be donating a portion of that supply to organizations in need.
Symrise, an investor and partner of Califormulations, secured a supply of raw materials needed to produce hand sanitizer and is donating them to the Califormulations effort.
Califormulations has over 100,000 square feet of R&D, manufacturing, filling and packaging capabilities. A segment of the company's production area was quickly converted from beverages to hand sanitizer, with the Georgia state government aiding the effort by assisting in expediting the required licensing.
"As the world faces the continued impact of COVID-19, Revlon is proud to have collaborated with our long-time partner, Symrise, in the production of hand sanitizer to support our local communities," Debra Perelman, Revlon president and CEO, said. "To all the health care heroes around the world, thank you, from Revlon."
"We feel obliged to help our local communities wherever we can", said Andreas Steiner, senior vice president, consumer fragrances, Symrise, North America. "Our ingredient know-how helps us to produce hygienic hand sanitizer for local health support, especially in New York and New Jersey. We would like to thank our long-standing partner Revlon for this important collaboration during such challenging times."
"As we stated when we founded Califormulations, we want to be able to support and give back to our community," Califormulations president Toby Polhamus said. "With the shortage of hand sanitizer currently being experienced in COVID hot spots, we felt it was important for us to act quickly since we have the capability to produce and package hand sanitizer right at our site. We are partnering with the Greater Columbus Chamber of Commerce to direct our product where it is most needed in the region and our team is proud that we are able to contribute."
Paul Graham, president of Symrise Flavors North America, added, "The shortage of hand sanitizer at health care facilities across America is a very serious concern, especially right here in the New York metro area. We are thankful that we are able to contribute to the relief efforts with this donation of raw materials."