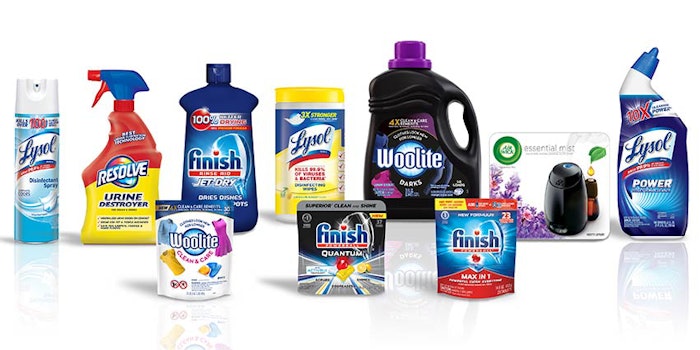 Initially created in 2009, global consumer products company Reckitt Benckiser plc (RB) has re-launched its product transparency website, which discloses ingredients for its products sold in the United States.
The site is intended to proactively offer consumers greater visibility into the products they purchase, with the upgraded version taking it a step further by offering technical details –including fragrance information – and enhanced consumer-friendly functionality for searching popular brands like Lysol, Mucinex, Air Wick and Finish.
Having spent years collaborating with policy makers and NGOs, RB was active in supporting and developing the California Cleaning Product Right to Know Act of 2017, a landmark law that requires precedent-setting ingredient and fragrance disclosure.
RB's upgraded website meets all the requirements of the California regulation with some significant additions.
Consumers can search the website by product name or UPC barcode to find ingredient information. There are three ways for visitors to view the information and they can also download safety data sheets – in English or Spanish – and learn the latest information on RB's responsibility standards and policies.
Continuing its mission of providing consumers with the information they need, RB's on-label ingredient statements will enable even greater point of purchase information. Some of the labels have already been launched with the remainder slated by the end of 2020, including a Lysol ingredient statement.
"RB has a long and proud history of being a leader in ingredient transparency because we firmly believe consumers have both a right to know, as well as a right to understand, what is included in our products," said Hal Ambuter, vice president of regulatory and government affairs for RB's Hygiene Home brands in North America. "To truly create a cleaner world, we need to start with providing our consumers with the information they need to make informed choices and to reinforce their trust and confidence in our products."
"It's great to see a company like RB put so much thought and effort into creating an online format to disclose ingredients that is user friendly and, in some cases, goes above and beyond what is currently required by law," said Amber Garcia, executive director of Women's Voices for the Earth. "We thank RB for the leadership it has shown on the public's right to know. They truly listened to their customers who were asking for more information about what products are made of, and they delivered."