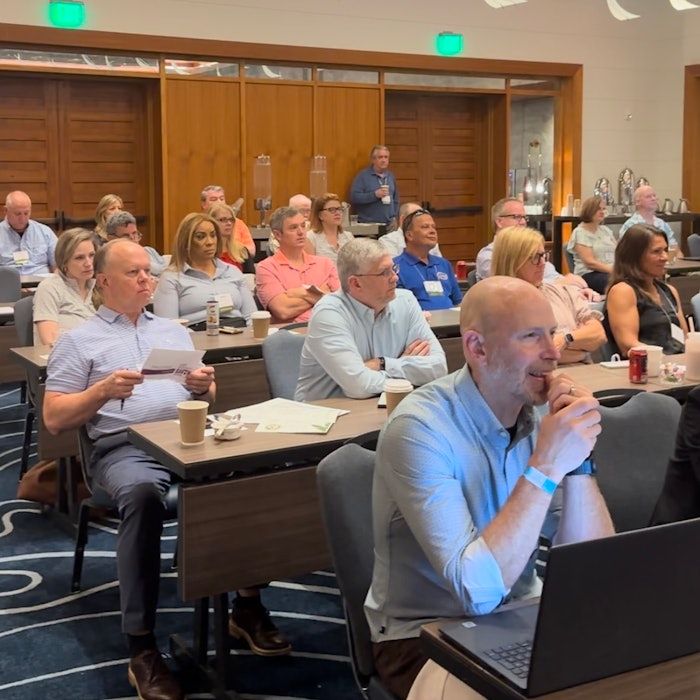 Jenna Troyli
On October 26-28, 2023, NAFFS hosted its 106th Annual Convention in Longboat Key, Florida. The event hosted conference sessions as well as breakout activities. 
The convention began with "Trend Hunting from Identification to Flavor Formulation" with Christopher Warsow, vice president, Savory & Culinary; Flavor Creation, Application & Delivery Systems, Bell Flavors and Fragrances. Warsow discussed how his team of flavorists and chefs track macro and micro trends in North America.
Warsow also shared tales from each of his travels with his team of flavor chemists, he would create a "pantry" of flavors he was inspired by along the way from Mexico to Dearborn, Michigan. For instance, while in Dearborn, Warsow's Mid-East & Arab World Pantry consisted of harissa, dates, sumac, preserved lemon and saffron. The VP also presented market examples of products created from these trends and ingredient/flavor inspirations.
Next up was "Neo-Natural Compounds: The Next Generation of Flavor Ingredient Biotechnology" with Lorenzo N. Bizzio, Ph.D., R&D Molecular biologist, Advanced Biotech. Bizzio began by digging into the ambiguous definitions of natural ingredients before distinguishing the differences between natural vs. synthetic ingredients and how synthetic ingredients host a wider range of novel sensory experiences. But how can flavorists and flavor houses meet consumer demand for "all-natural" products while also creating new and unusual flavors? Bizzio then introduced the theoretical concept of neo-natural compounds alongside a few theoretical examples on of which being Asparame (below).
Chemically, aspartame is a methylated aspartic acid-phenylalanine dispeptide.
Design a gene that produces shot (50-100 residue) polypeptides consisting exclusively of repeating Asp-Phe units.
Introduce a dipeptidyl peptidase that cleaves immediately after phenylalanine (like the bacterial enzyme DAP BII isolated by Sakamoto et al., 2014)
Add in an engineered carboxyl-O-methyltransferase specific for this dipeptide.
Concerns for neo-natural compounds including GMO labeling, novel molecules still need to be approved for human consumption and will need a FEMA number, still not considered EU natural and it requires extensive R&D to develop.
The final session of day one was "Food Preservation in a Clean-Label Era" with Chauncey Dixon, vice president, Galactic. Dixon began his session by giving an overview of the history of preservation (temperature control/salt) followed by the evolution of methods including radiation, high pressure pasteurization, chemical ingredients, topical treatments and natural ingredients (cultured sugars, etc.). The VP then explained processing aids and how they fit in a "clean-label world." Dixon touched on the future of food preservation including packaging (anti-microbial sponge or pad), atmospheric ("airborn" anti-microbial to reduce bacterial load on and around food), films(food contact anti-microbial) and castings(natural with direct contact anti-microbial) and the growing costs associated with evolving technologies.
Day 2, October 28
"Legal, Legislative & Regulatory Update" with Patrick J. McNamara, partner, Scarinci / Hollenbeck. McNamara, a regular speaker at the NAFFS Convention, took the podium for an informational session highlighting proposed FTC rules banning use of non-compete agreements, the cannabis market (proposed law: Hemp Access and Consumer Safety Act), as well as the proposed rule in Subchapter J—rules concerning unfair methos of compeititon Part 910—non-compete clauses.
"Development of Texture/Taste in Food" with Edgar Anders, CEO, EDGE Ingredients. Anders began his session by going through the basics of taste and textures and their roles in food experience followed by taste's perception and role in history and the role of texture in early diets. While discussing the science of taste and the nuances of tastebuds, Anders shared an interesting fact—our brains link flavor not only to taste but also to smell, color and texture, creating a rich, multisensory experience. The CEO then shared the evolution and usages of the five primary tastes: bitterness, sourness, umami, sweetness and salt in cuisine. Anders cracked two beers, a Guinness and a lager to show as an example of how culture plays a major role in food and beverage preferences and tastes (below). The presentation also highlighted current trending texture combinations (ie smooth/creamy and chewy/gooey) and the influence on the flavor industry due to the innovation in food processing and mass production.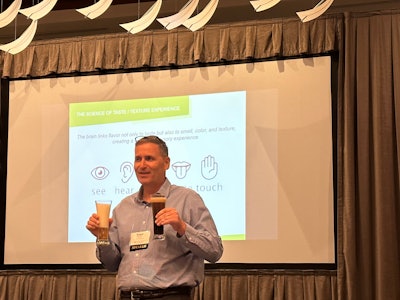 The final NAFFS Convention session was "Agile Sensory for New Product Development with Small to Mid-Sized Teams" with Karen Graves, senior director of Sensory and Consumer Science, Bell Flavors and Fragrances. Graves' session was dedicated to give attendees an enhanced understanding of sensory and consumer science, framework for new product development and tools for flavorists and sensory professionals.
Graves shared IFT's work in progress definition of sensory and consumer science: Discipline that helps companies be truly human-centric. As the consumer's greatest advocate, we bring the voice of the consumer to every strategic decision across product, brand, marketing & sales by using behavioral & sensory science to empirically support successful innovation.
The NAFFS 106th Annual Convention wrapped up with a Luau Celebration where attendees sported tropical Hawaiian shirts. A special thanks to NAFFS for hosting Perfumer & Flavorist+ to another successful convention.