C/O FAFAI
The Fragrances and Flavours Association of India (FAFAI) held the Silver Jubilee Edition of the International Convention & Expo on February 23-25, 2023. Hosting 103 exhibitors within Biswa Bangla Mela Prangan convention center in Kolkata, India, the three-day event welcomed nearly 2,400 attendees, including close to 1,900 delegates and 400 expo stall attendants and personnel.
The theme of the convention was "Asia: The Global Growth Engine," taking a look at how the F&F world has changed since the pandemic, particularly how the Asian industry will continue to grow. Perfumer & Flavorist+ (P&F+) connected with FAFAI president Rishabh C. Kothari to get an inside look at the event's success.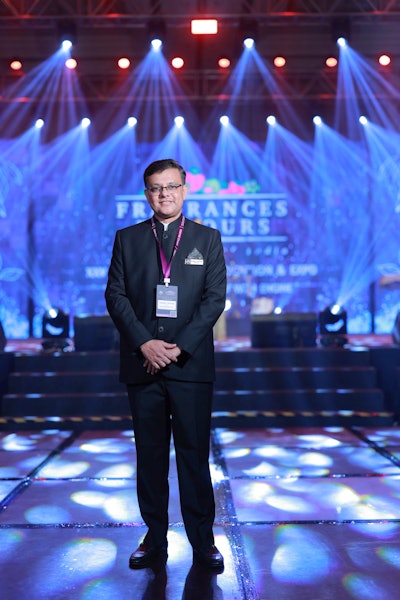 P&F+: What were some of the highlights of the event?
Rishabh C. Kothari [RK]: This was the biggest and largest FAFAI Conference and Expo to date. Since it was the Silver Jubilee event, all efforts were made to make the event larger than life. From the event planning to the conference sessions, the hospitality, and even the evening entertainment featuring some of the biggest musicians and artists in the country, we were sure to attend to every detail to make this a successful event.
P&F+: Were there any trends or themes you noticed from exhibitors? Are there any new ingredients making their way onto the market that were exhibited at FAFAI 2023?
RK: This was one of the largest gatherings of the F&F industry in this part of the world after almost four years of the pandemic as well as the upheavals in Europe and the rest of the world. The excitement and enthusiasm for the event among attendees were palpable. All exhibitors had put a lot of effort into their booths, including the design as well as the presentations. There were a large number of booths showcasing natural ingredients catering to the renewed interest in natural, safe products and ingredients post-pandemic. The products offered also mirrored the general trend toward sustainable and nature-friendly products that can be seen in end-user or consumer product industries.
P&F+: From your perspective, what does the future look like for F&F?
RK: With consumer spending and demand back on track after a lull of a couple of years, there is renewed enthusiasm within the F&F industry. There is a definite shift towards safe, eco-friendly, sustainable, as well as natural products and ingredients, but this is like any other trend that the industry has witnessed over the years and the industry continues to adapt to meet these evolving demands.
P&F+: What can attendees expect from FAFAI 2024?
RK: The next FAFAI International Convention & Expo will take place at either the end of 2024 or the beginning of 2025 and will coincide with the 75-Year Platinum Jubilee celebrations of FAFAI. Given this would be a landmark event in the history of FAFAI, one can expect a much bigger event in all respects and aspects.