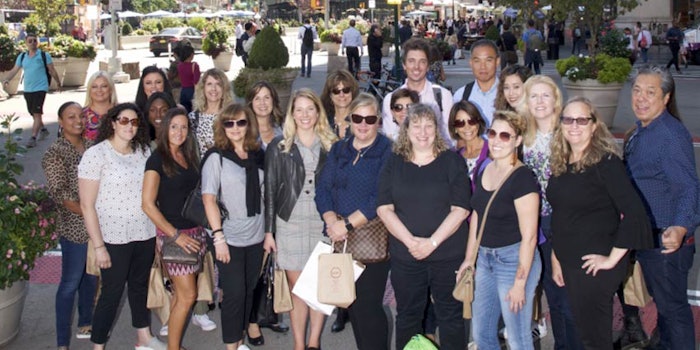 On September 17, 2019, the Women in Flavor and Fragrance Commerce, Inc. (WFFC) gathered for its 12th Annual Flavor and Fragrance Sensory Trend Excursion in New York City, organized by Amy Marks-McGee of Trendincite LLC and sponsored by Comax Flavors, Costello Creative Group, Premier Specialties Inc., and U&I.
The WFFC group began the excursion at Bourke Street Bakery in the Manhattan's trendy NoMad neighborhood. A New York City outpost of an independent Australian bakery chain, Bourke Street Bakery is known for a wide selection of pastries, an assortment of daily in-house Sourdough bread, and classic Aussie sausage rolls. Bakery owners, husband and wife Paul Allam and Jessica Grynberg, graciously spoke with the group about Bourke Street's beginnings as attendees gleefully sampled a variety of delectable baked goods including Pork and Fennel rolls, Dried Plum Sourdough, Seedy Sourdough (sesame seeds, poppy seeds, and pepita seeds), Ginger Crème Brûlée, Belgian Chocolate & Sour Cherry Cookies, and Oatmeal & Barberry (Anzac) Cookies.
After the groups' appetite had been sufficiently whet, the guests strolled to MAISON 10, a concept store and art gallery located on the second floor of 260 Fifth Avenue, which offers 10 rotating categories of products ranging from fine fragrance and candles to jewelry and accessories. Co-founders, Henri Myers and Tom Blackie explained the gallery's model and how every 10 weeks the products and artwork change and that 10% of the sales go to a variety of charities selected by each designer. The group perused the artwork and interacted with the 10 different displays. You could find attendees sniffing indie fragrances such as Anvers by Ulrich Lang, Butch Femme by Carlen Parfums and The Zoo Fig My Love by Christophe Laudamiel as well as candles like Watch The Queen Conquer – Nicki by The 125 Collection x Instagrandmaw and Herb Essntls Cannabis Infused Candle.
Taking a break from the eye and nose candy, the group then made its way to Dr Smood on Broadway. Christian Nimand, Head of Nutrition, met the group and discussed how Danish entrepreneur Rene Sindlev (founder of Pandora jewelry) and wife Patrycja, were frustrated by the lack of healthy, grab-and-go restaurants and decided to fill the void with Dr Smood. With 13 locations (eight in NYC and five in Florida) and growing, Dr Smood is an organic performance-based café that specializes in unprocessed food and beverages based on six benefits: Power, Beauty, Immunity, Detox, Energy, and Health that are "backed by science for optimal performance, body, and mind." Using their own Dr Smood facilities, all the food and beverages are USDA certified organic, certified kosher, non-HPP and non-GMO. The group sipped on samples of iced Hawaj White Coffee, which is based on a Yemen recipe and features in-house coffee beans lightly toasted and then gently mixed with a spice blend of ginger, cinnamon, cardamom, and clove. The group also tasted iced Golden Mylk Lattes prepared with in-house made almond mylk, turmeric, black pepper, and a raw honey elixir.
Next door, the group ventured to Standard Dose, a multi-brand e-commerce and content destination that specializes in curated plant-based and CBD-infused food, drinks, beauty products, and tinctures that opened its first brick and mortar store in New York City in May 2019. Pearl Wit gave a brief store overview and explained the benefits of CBD as the attendees explored the store's offerings and tried a variety of CBD-infused and plant-based skin care products. The group sampled Vybes Honey Crisp Apple Basil and Vybes Strawberry Mint beverages, which each contain 25 mg of hemp extract per 14 oz serving. In addition, guests tried three different types of fresh brewed hemp-infused teas: Reset Balance, Reset Healing, and Reset Immunity.
After an enlightening experience, it was time for lunch at the nearby HanJan restaurant. HanJan by Chef Hooni Kim is a modern Korean restaurant, which was inspired by the "joomak," an old Korean tavern that offered weary travelers good food, good drinks and a place to rest. The restaurant uses organic and local produce, antibiotic-free meat and wild-caught fish that are not overfished or endangered. Guests quenched their thirst with refreshing Cucumber Cooler and Raspberry Fizz mocktails and feasted on a seven-course family style meal, which included: Lani's Farm Organic Salad, Garlic Fried Chicken, Spicy Ricecakes, Vegetarian dumplings, Soy Poached Black Cod, BBQ Wagyu Short Ribs and Sizzling Hot Bibimbap. As attendees dined, General Manager, David Yang, shared the restaurant's philosophy and described the unique Korean ingredients used.
Bellies full, the group moseyed their way toward Madison Square Park with the Flatiron building as the backdrop for the group's annual Trend Excursion photo op by photographer Dan D'Errico.
The next stop was Le Tea, which is self-described as "an elevated tea experience that stimulates the senses" and offers a wide selection of teas and bubble teas. Founded by fashion graduates of the New School's Parsons School of Design, the shop is designed to create "a multi-level experience in a space that encourages perception and reflection." Le Tea prepared Iced Cake Milk Tea, Mango Le Milk, and Starry Kumquat + Lemon Tea that were housed in clear mason-like jars with gold tops and accompanying gold straws. The beverages were almost too pretty to drink, but samples of each flavor were poured off and shared among the group.
The WFFC's last and final stop of the day was to none other than Tipsy Scoop, an ice cream barlour, which features liquor-infused ice cream flavors that are inspired by classic and contemporary cocktails using local and seasonal ingredients. After each attendee was carded, Jessica Maris, Store Manager, explained Tipsy Scoop's backstory as the group taste-tested a selection of ice creams and gelati such as Cake Batter Vodka Martini, Mango Margarita, Spiked Hazelnut Coffee, and Tequila Mexican Hot Chocolate. As the grand finale, each person selected an individual flight cup with a flavor of their choice. It was the perfect finish to the WFFC's 12th Annual Flavor and Fragrance Sensory Trend Excursion.