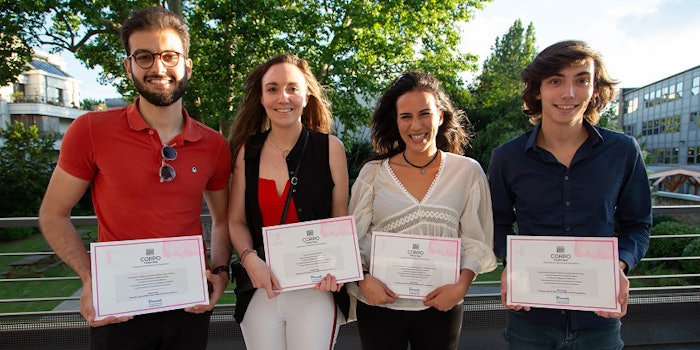 Corpo 35 has named the finalists for its third annual fragrance competition, during an award ceremony on June 20, 2019.
"Corpo 35 is an adventure that started three years ago and could not exist without our partners. I thank them all for their commitment and their shared passion for perfumery. We reveal five talents per year; it is Corpo 35's will to go even further. To be able to spread the passion for perfumery, we must be able to spread the creations. Our contest generously gathers all the necessary parameters. We had exceptional candidates from all continents, amazing Firmenich raw materials, and a theme that highlighted the rose centifolia from Grass," said Cecile Vialla, director of the Corpo 35 contest.
Sponsored by Firmenich, the competition allows young perfumers the opportunity to design and formulate their own perfume. The winning fragrance will then be produced and marketed. This year's winner and runner-ups include:
1st prize: Batiste Humeau
2nd prize: Fanny Ginolin
3rd prize: Mouna Chanaoui
4th prize: Valentin Navet
5th prize: Saif Parvez
The winning fragrance, created by Humeau, featured notes of rose centifolia, peppermint, honey Provence, pepper Sichuan, cedarwood Alaska and vanilla absolute.
Related: So NaturalTogether—Firmenich Contemplates the Future of Naturals
"Firmenich will always be a true home for perfumery culture where creators, specialists, young people and experts meet to share and promote their love and devotion to perfumery. We also want to promote new talent. Our job is a metier done by people; it is these individuals who will make the difference. Encouraging, training and challenging young talent is a noble mission. We are pleased to have sponsored this third edition of Corpo35 and congratulate Cecile Vialla on such a great initiative," said Armand de Villoutreys, president perfumery & ingredients.