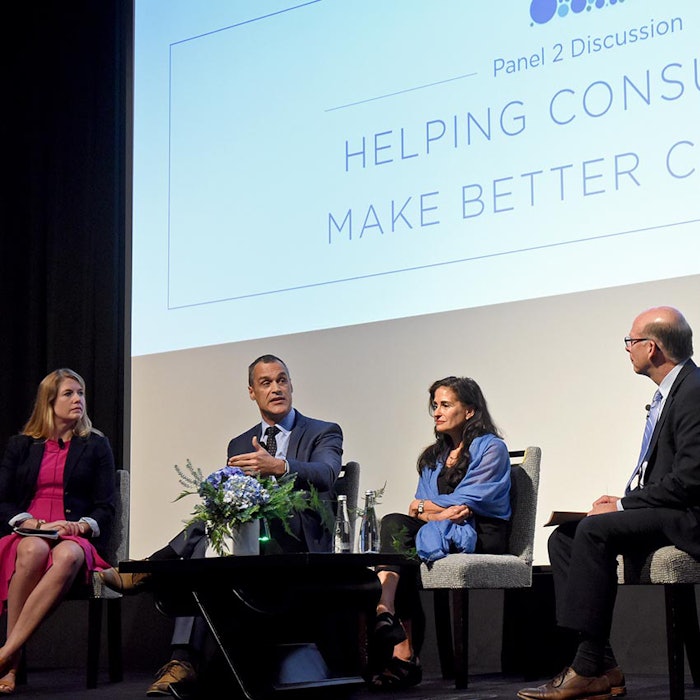 All photos by Diane Bondareff
The Cleaning Products Cleaner Future Summit was held at the Crosby Street Hotel in New York City's chic SoHo neighborhood on Jun. 12, 2019. Sponsored by Procter & Gamble, the event featured a day-long conference from thought leaders in home care, retail, NGOs, industry associations and media to discuss key drivers within the homecare category.
Topics included product safety and transparency, fragrance disclosure, allergens and sensitivities and the role consumer packaged goods companies play in a circular economy to lead to more informed consumer choices in products.
In his opening remarks, Martin Hettich, vice president of homecare, P&G, welcomed attendees to a day of open dialogue surrounding the future of homecare, maximizing consumer experiences/wellbeing and minimizing environmental impact.
Discussions on disclosure and transparency
The first panel, "Safer Chemicals and Ingredient Transparency," moderated by Melissa Hockstad, president and CEO of American Cleaning Institute, featured Nhat Nguyen, chief analyst, Chemical Watch; Elizabeth Ritch, project manager, GreenBlue; Jeffrey Hollender, co-founder and former CEO, Seventh Generation; and Scott Heid, scientific communications, P&G. The panel explored pertinent issues on consumers' right-to-understand, how the supply chain is addressing changing demands and answering the evolving question: what is transparency?
Related: [podcast] Interview with Suzanne McCormick of method
When it comes to proprietary ingredients, company's hands are tied, but engaging with consumers in an authentic way is absolutely possible. Ritch explained there are different levels of transparency, but ultimately it's about sharing information with consumers that's meaningful and digestible. By looking at it from a consumer perspective, Hollender explained, ingredient information should be readily available for consumers who are looking for a deep dive explanation. On the other hand, that deep dive is a fine balance as companies are reticent to overwhelm consumers with information. Heid added that ingredient disclosure is a process where companies listen to consumers and build trust by developing products across a variety of segments to provide choice, and simultaneously translating science into consumable content. Yet, another facet of transparency, Nguyen added, is tracing these milestones of a company's achievements and fallbacks while including the consumer on the journey strengthens which brand loyalty. In the case of fragrance where people have a myriad of preferences, Heid explained, placing an ingredient in context is critical—for example, informing consumers where ingredients are found in nature—to give consumers a chance to relate the scents they smell with their natural surroundings. Certified ingredients from third-party verifiers and database information offer consumers more confidence in these products. At the same time, for companies, regulations on ingredients create a framework for players to abide by the same rules and create a harmonized system. Ultimately, the panel concluded that ingredient disclosure between company and consumer will continue to evolve as wellness trends shift and policy is implemented.
Continuing the discussion of ingredient safety from a sociological perspective, the next panel, "Helping Consumers Make Better Choices," was moderated by Jim Jones, Household and Commercial Products Association, and featured panelists Dan Gardner, author and principal at Tactix; Meghan Stasz, vice president, packaging and sustainability for the Grocery Manufacturers Association; and Susan McPherson, founder and CEO, McPherson Strategies.
Related: [update] US Representative Proposes Ban, Review of Hundreds of Ingredients
One of the biggest challenges right now is the incongruent viewpoint of safety between consumers and regulators/industry. Ultimately, companies are faced with the challenge of simplifying complex information on ingredient safety for consumers and delivering it immediately, Stasz explained. Several states, like New York and California, have its own cleaning product disclosure, creating not only confusion for the consumer but an additional challenge for multinationals to formulate products specific to that state's requirements.
Fragrance 101
Moving into the world of fragrance, one of the breakout sessions, "Fragrance 101," was an extension of the first panel, with topics surrounding the function and purpose of fragrance in home care products. Led by Amanda Nguyen, director, government affairs and legal, Fragrance Creators Association; Cynthia Reichard, executive vice president, Arylessence; and Matt Wagner, section head R&D global fragrances, P&G.
Related: Fragrance Ingredient Communication: Negotiating and Implementing California's SB 258
The interactive workshop was a crash-course on fragrance: what is a fragrance? How is it made? What is a fragrance made of? How is safety assessed? And how are fragrances regulated? Wagner explained the delicate balance between aroma chemical mixtures, application and regulatory constraints helps create different olfactive experiences for each cleaning product. During the workshop, attendees smelled individual components that make up a rose (such as phenyl ethyl alcohol and geraniol) to better understand how fragrances are created. Nguyen and Reichard, both active representatives of the fragrance industry, shared their expertise on fragrance, namely the multifaceted regulation of fragranced products. These facets include industry and government regulations, safety standards implemented by fragrance houses and CPGs, customer policies, retailer policies and third-party certifiers.