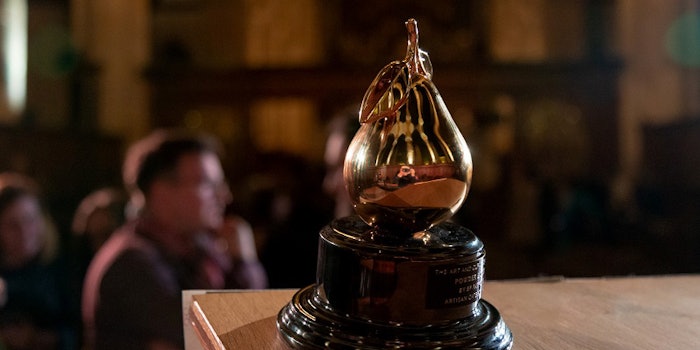 On May 2, 2019, the Art and Olfaction Awards, presented by The Institute for Art and Olfaction, held its 2019 award ceremony, which honored the creative minds of the independent and artisanal perfume world.
Each year, the award is given to just four perfumes, one experimental scent project and three special awards (The Aftel Award for Handmade Perfume, The Contribution to Scent Culture Award and The Septimus Piesse Visionary Award). Each category was judged by a panel of fragrance and art experts. Each winner then received The Golden Pear award at the event, as a token of their achievement in the perfume world, and delivered speeches on their perfume and the importance of scent.
Related: Art and Olfaction Awards Announces 2019 Finalists
During the ceremony, IAO founder Saskia Wilson-Brown presented a "tiny manifesto" about the craft of perfumery and its importance. In it, she said: "In the end, the tiny vision – with devotion to craft, attention to the original vision, and zero time spent comparing yourself to others on Facebook or Instagram – can become magnificent. It's - indeed - our love of the smaller aspects of the creative process, and our own creative growth that ultimately gives the freedom, and, in so doing, gets the reward."
This year's winners included:
Artisan Category Winners:
Powder & Dust, by SP Parfums (Germany)
Perfumer: Sven Pritzkoleit with Yana Tommelise
Hyde, by Hiram Green Perfumes (The Netherlands)
Perfumer: Hiram Green
Independent Category Winners:
Colorado, by American Perfumer (USA)
Creative Director: Dave Kern, Perfumer: Dawn Spencer Hurwitz
Rich Mess, By Ryan Richmond (USA)
Creative Director: Ryan Richmond, Perfumer: Christophe Laudamiel
Sadakichi Award Winner (For experimental practices with scent): 
Diary of Smells: Glass Ceiling
by Josely Carvalho (Brazil), Perfumer: Leandro Petit
Contribution to Scent Culture Award Winner:
Sissel Tolaas (Germany)
Aftel Award for Handmade Perfume:
Maderas de Oriente Oscuro, by PK Perfumes (USA)
The Septimus Piesse Visionary Award:
Frederik Duerinck (The Netherlands)