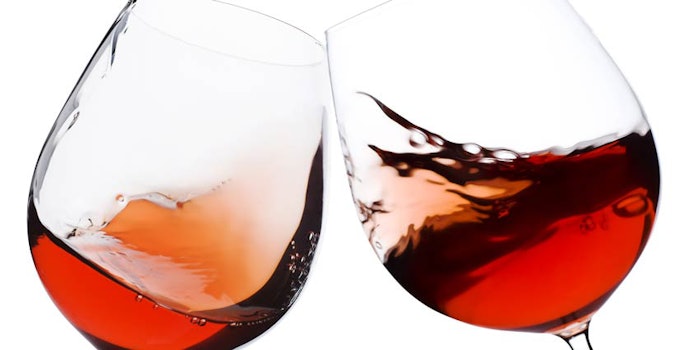 Christopher Diienno, president, American Society of Perfumers (ASP), welcomed fragrance industry colleagues to the third annual event, "An Evening of Pairings" at the Loeb Boathouse Central Park in New York City on November 11, 2016. The event offered a feast for the senses pairing together fragrance, food and wine.
"We hope to inspire the industry with a new addition of perfumery expertise, insight and artistry, and discover new heights of engagement with our senses," said Diienno in his welcome speech.
The event featured presentations by Jim Krivda, vice president and senior perfumer, MANE; Kaleigh Prokop, apprentice perfumer, MANE; Sherri Sebastian, senior perfumer, Fragrance West; Rafael Trujillo, research fellow and senior perfumer, P&G; and Elizabeth Schneider, wine sommelier, Wine for Normal People.
Beginning with Citrus
The evening began with a cocktail reception where Ungerer featured its "1893" cocktail made with a lime Coeur elixir (lime expressed furocoumari-free essential oil), Hendrick's gin and seltzer.
The appetizer, a scallop ceviche with mango, cucumbers, peppers, citrus and plantain chips, was paired with a Timur Pepper Pure Jungle Essence1 and mango base fragrances. Krivda explained that the Jungle Essence—which exhibits citrus, fruity and spice notes—was created using a portable extraction technique.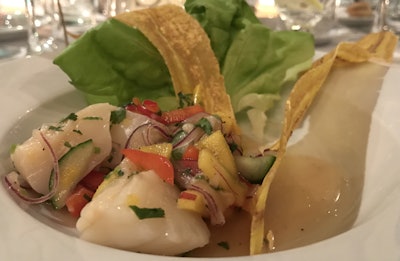 Schneider introduced Pazo de Señorans Albariño, to pair with the fragrance and appetizer. The flavors exhibited a white peach, pear and mineral character to complement the acidity of the citrus flavors in the ceviche.
Earthy, Herbal and Smoked
Attendees dined on a choice of pan seared snapper with sautéed zucchini, sliced grapes, olive tapenade and potato puree; or a grilled filet mignon with sweet potato and green plantain tostones with a green chimichurri sauce.
Sebastian created an earthy and herbaceous fragrance of cade, patchouli, cedar and oakmoss to enhance the grilled notes in the entrees. Schneider introduced a pinot noir (Domaine Cyrot-Buthiau, Pommard, 2013) to pair with the meal. She explained that the wine's acidity is an ideal complement to cut through the fat in both entrée options.
Pairing Sweet with Sweet
Dessert featured a chocolate truffle cake with fresh whipped cream. Trujillo shared a lavender aldehyde with hints of cocoa, cinnamon and sugar to pair with the sweetness of the dessert. The fragrance combination was featured in a laundry care prototype application, which offers a unique look at the direction detergents are taking with gourmand notes.
"Wine must be sweet, or as sweet as dessert," said Schneider as attendees sipped on the sweet Domaine de la Casa Blanca Banyuls, 2014.
As the event wined down, Diienno closed the evening by thanking the speakers and sponsors. "Perfumery is about touching the elements of life," he concluded. By combining food, wine and fragrance, attendees were offered unique insight to create formulations for an ever-evolving fragrance industry.
1 A registered tradename of MANE