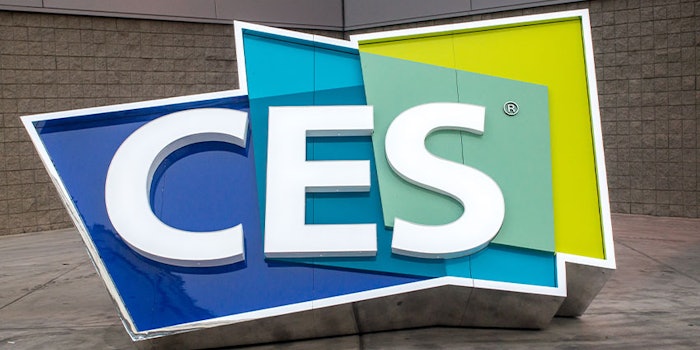 This year's Consumer Electronics Show (CES) saw a boost in fragrance and flavoring technologies. From aromatic identification tools to digital home fragrance devices and from meat alternatives to allergen and contaminant detectors, the technology presented at this year's show shines a light on the efforts being made to meet consumer demands for personalization and health/eco-conscious products.
Smart Diffusers
Several companies are currently competing in the custom digital fragrance category. Aromair presented Iceberg, a ceramic home fragrance diffuser that uses cold nebulization to diffuse the companies own IFRA Certified, zero solvent, zero paraben, French and Swiss perfumes. The Iceberg and Aromair's other diffuser, the Astree, come in on the more traditional end of diffusers with an emphasis more towards style and the quality of Aromair's fragrances than the technology within.
Related: Notification of the IFRA 49th Amendment 
Another company with an aesthetically intriguing device is Artiris with their Compoz fragrance composer. The device houses up to five cartridges of alcohol-free, natural essential oils which it uses to compose the custom fragrances which it then diffuses. Users are able to personalize, adjust and save their unique home fragrance and even schedule when the scents will be released through a mobile app that connects to the device via BlueTooth.  
Two companies that are a little more transparent about how their devices work are Pium and Moodo. Both smart diffuser devices work with their respective fragrance pods to create complex, digital home fragrances.
Related: Air Care: How Scent & Strategy Combine to Expand Category Growth
Pium utilizes a three-pod system of premixed fragrances set for use during their eponymous times of the day: Morning, Afternoon and Night. Morning is a citrus based fragrance with notes of bamboo, tea and citron. Afternoon is a floral fruity fragrance featuring cedarwood, orange and lotus. Night has a woody musk profile of bergamot, musk and orange blossom notes. The device has three intensity levels: mild, moderate and bold. Timing and intensity are controlled via a BlueTooth connected app that also tracks the levels in the capsules and sends a notification when they are running low. Additionally, the diffuser is Amazon Alexa and Google Home compatible. It's clean, high-tech aesthetic looks right at home next to a smart speaker.
The main thing that sets Moodo apart from the other fragrance diffusers like it is its pods. The other diffusers listed all use liquid fragrance, whereas Moodo uses fragrance beads. This means that there is no alcohol or heat needed to suspend the liquid fragrance in the air. Moodo's pods are also cruelty free, eco-friendly (users can send the pods back to Moodo to be recycled) and come in the widest variety of fragrance options. Capsules come in packs of four – which is how many pods fit into the diffuser at once – and are specially paired to interact harmoniously with one another. Some of the pack options include Winter which contains Xmas Cookies, Xmas Tree, Fireplace and Snow Angels; Beach Party with Sea Breeze, Monoi De Tahiti, Sweet Sand and Amber Marin; Cozzzy featuring Midnight Thrill, Precious Spices, Grandma Vanilla and Orange Sunrise; and they even have Lawnscape capsules that the company claims help to relieve stress in dogs. Like the Pium smart diffuser, Moodo is Google Home and Amazon Alexa compatible, but also works with other smart systems such as Siri Shortcuts.  
Related: Moodify and Valeo Collaborate for Car Malodor Solution
In addition to their home diffuser, Moodo has also recently released MoodoGo, a portable, single scent diffuser specifically designed for use in vehicles. The only drawback to the MoodoGo is that it currently only has a limited line of four fragrance capsules: Sea Breeze, Grandma Vanilla, Orange Sunrise and Wood Royale.
Digital Noses
On the scent recognition side of things, three companies presented scent analysis devices capable of recognizing airborne scent chemicals. These devices are geared towards business applications from product manufacturering to rideshare companies.
Related: Shimadzu Releases 6 New UV-Vis Spectrophotometers
NanoScent's NanoScent SR device is the largest of the three devices, and, with an emphasis on malodor, it is the most heavily directed towards businesses for use in communal, industrial and manufacturing facilities. The device utilizes a vacuum system to draw air into the unit where it comes into contact with the sensing chamber. NanoScent SR uses eight sensors, each with its own chemical coating, which is then connected to an electrode that sends the information to a cloud-based algorithm for scent recognition.
The French company Stratuscent has developed a similar device but which is handheld and easily portable. Stratuscent's device also functions by using sensors and an algorithm – in this case, a patented AI-algorithm – to translate the data and identify the fragrance chemicals. The suggested applications for this device come a little more towards the consumer side of things, but it is still mainly geared towards businesses. One of the more interesting suggestions from Startuscent's website is for application in smart home appliances to detect rotting food in the refrigerator or track the progress of cooking food.
Related: IFF Partners with SleepScore Labs for Products Capable of Improving Sleep
Finally, Aryballe unveiled their new, handheld digital scent detector. Similar in size to the Stratuscent device, Aryballe's new handheld reader is all about ease of integration. Aryballe has partnered with International Flavors & Fragrances Inc. (IFF) and Hyundai Motor Company to create this new device. It uses a silicon photonics biosensor which makes the device more vibration resistant and less susceptible to external influences.
Food and Flavor
While there weren't any solidly flavor related innovations, save for maybe Impossible Foods, this year's CES was full of devices and technologies that could have major impact on the food and flavor markets.
Just as with fragrance, detection technology was one of the big innovations on the food side. Taiwan User-Friendly Sensor and Tech presented their multi-channel commercial detection module. The module is able to effectively detect food allergens such as peanuts, seafood and wheat; hazardous residues like plasticizer and rongalite; food poisoning sources including salmonellosis, bivrio parahaemolyticus and listeria monocytogen-es; and contaminants such as insecticides, fungicides and heavy metals. The device can process up to 96 foods in a single run and detection takes less than five minutes.
South Korean based Purespace offers solutions for food quality and safety through their food storage system which removes mold and ethylene from the storage environment while also sterilizing airborne microbes capable of contaminating stored food. The main applications are for producers and processors of food products with the main target foods being fruits.
Related: Flavorcon 2019 Hosts Tastemakers from Around the World in Cincinnati
Also on a mission to bring fresher products to consumers is Fresco's EVA mini. This straightforward device uses frozen oil pods that are cryogenically treated within a few hours of extraction to lock in all of the aroma, taste and nutrients found in freshly made olive oil. Each pod produces 115 ml of fresh olive oil in three variations: allegro, vivace and adagio. All oils are sourced from Italian olive growers and olive oil producers which are listed in the details for each type. The pods are placed in the top of the device and drain into a cup for collection at the bottom.  
From frozen pods to nitrogen capsules, N2FALLS has developed the first portable nitrogen coffee. The cold brew coffee is stored in specially designed waterfall capsules that work with N2FALLS custom bottles or with a nozzle that can be affixed to any regular cup. This innovation stands to revolutionize the way that cold brew coffees are prepared especially with the opening of their own franchise shop in March of 2020. In addition to coffee, N2FALLS is also set to start providing a variety of capsulized teas, wine and health benefiting beverages.
Related: Global Plant-Based Market Growth Through 2025
At the top of the better-for-you trend are plant-based alternatives and one of the most popular food related exhibits at CES was the Impossible Foods booth. Last year, they wowed the crowd with their Impossible Burger 2.0. This year, Impossible Foods has taken their next steps in plant-based meat innovation by unveiling Impossible Pork. Containing no gluten, animal hormones or antibiotics, the plant-based ground pork alternative comes in at similar levels to traditional pork for the things consumers want, and way under for the things they don't. Impossible Pork has 16 grams of protein and 3 mgs of iron compared to 17 grams of protein and 1 mg of iron for traditional pork. Additionally, Impossible Pork has only 13 grams of total fat, 7 grams of saturated fat and 0 cholesterol compared with 32 grams of total fat, 11 grams of saturated fat and 86 mgs of cholesterol in traditional pork. Impossible Pork also has 130 fewer calories that traditional pork based on a 4-ounce serving.
Truly, the advances at this year's CES are indicative of big changes for the future of the flavor and fragrance industries.