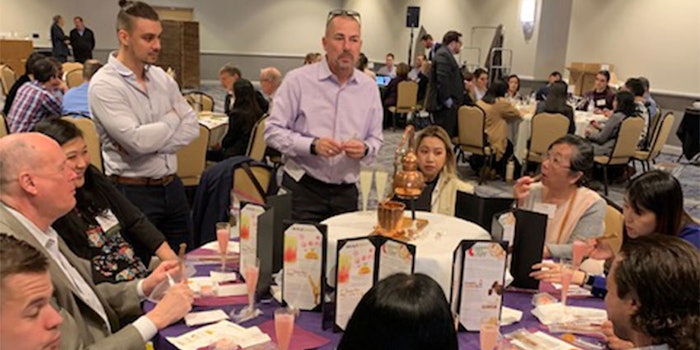 Despite the recent turmoil and chaos of coronavirus, including the cancellation of Natural Expo West, the National Association of Flavors and Food-Ingredient Systems (NAFFS), the Society of Flavor Chemists (SFC) and the Chemical Sources Association (CSA) industry roundtable event went ahead as normally as possible on Thursday, March 5, 2020.
While some organizations did forego the event due to travel restrictions and general caution, eight out of the original 15 presenters made it out to Anaheim to present their latest offerings and innovations.
The start of the roundtable event is a bit like musical chairs: everyone moves to find a seat at one of the presentation tables around the room. Each presentation is given within a 20-minute timeframe with five-minute intervals for participants to move from one table to the next.
Sensient presented a sampling of several extracts: a number of ginger variations were presented to demonstrate the difference in processing between a percolate, a CO2 extraction and the decoloring effect of microdistillation. Participants were provided a list of Sensient products which listed the process used to produce the ingredients, their solubility and recommended application.   
Advanced Biotech performed a similar sampling session, with the added visual aid of product slides on tablets that participants could follow throughout the presentation. A number of ingredients presented were certified organic, kosher and/or halal. The clear favorite amongst the group was the final sample: truffle sulfide 0.1% PG Natural which is derived from a natural isolate but does use a synthetic carrier. 
Pearlchem provided a tasting of a number of confectionary ingredients including two variations of vanillin, two pyrazines and an acetylfuran. They also provided participants with animal crackers to demonstrate the flavoring ingredients' impact on a finished product.
Berje's table was one that became immediately full at the start of the sessions. The regal aesthetic of their lifted display draped in purple, the ring of flutes filled with lemonade and the miniature still sitting atop it all like a crown were enticing, to say the least. Their sampling included a coffee flavoring presented on a sugar coated, iced pretzel stick; ginger and turmeric in a lollipop; and a mini powdered donut topped with pink chocolate and orange citrus sugar. The lemonade was treated with a small bath bomb like cube that turned the liquid pink as it released a rose aroma and balanced the tartness of the lemonade.
Omega Ingredients' presentation focused on the ingredients necessary to make a non-alcoholic Bloody Mary dubbed the "Bloody Shame." Participants were first given samples of each individual ingredient to smell, including carrot, beetroot, tomato, sancho pepper, watercress and umami. Then, the finished drink made from the sampled flavor ingredients was tasted. One major benefit of this type of product creation is the elimination of allergenic ingredients such as Worcestershire sauce.
Treatt offered a similar blended tasting with fragrance samples of the individual ingredients and tasting samples of the combined notes as a finished flavor. The tasting featured Lavender Darjeeling Tea with lavender, black tea and Darjeeling tea notes, Chipotle Watermelon Lemonade with lemon juice, watermelon and chipotle notes and Passion Fruit Lime Craft Soda with passion fruit and lime oil.
Bontoux presented a variety of alcoholates, infusions and extracts including four samples delivered in the form of custom filled artisanal chocolates: honey alcoholate, bergamot organic extract, ginger infusion and cinnamon infusion. The remaining samples were offered in water, including an organic coconut infusion, organic vanilla infusion, raspberry extract and cocoa alcoholate.  
MagnaSweet provided a tasting of a number of their sweetener enhancing products including several variations of their eponymous Magnasweet formulas as well as a bitter masking model and a stevia enhancing model. All the samples were presented in water except for the bitter masking model which was incorporated into a plant-based protein material to demonstrate its effect.
Overall, the event went off as smoothly as could be expected given the circumstances, and the reduced number of tables and attendees made it so that there were enough sessions to experience each presentation.