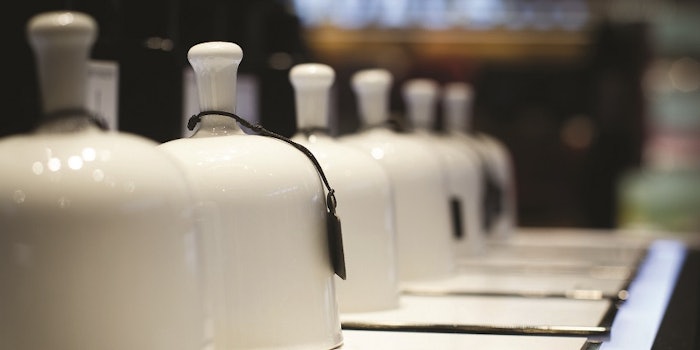 Produced by The Institute for Art and Olfaction (IAO) to further its mission values of perfumery access, education, and experimentation, the Biennial Scent Fair (previously known as AIX) took place in Los Angeles, California on Nov. 2-4, 2018. The event showcased small niche scent brands, artist projects, and design studies that use olfaction in innovative and experimental ways, aiming to "introduce new audiences to the world of highly conceptual scents."
The event also featured blending workshops presented by The Institute for Art and Olfaction and a keynote conversation between IAO founder Saskia Wilson-Brown and naturals-specialist perfumer Mandy Aftel in which she argued that "the history of naturals shows who we (as cultures, as people, as a species) are" and that, for her, the creative act of a perfumer lies in "being hands-on with the materials and learning how they react with one another through the act of blending and working with your hands…"
The event demonstrated the various experimentations of the American indie fragrance scene. Key takeaways include an interest in machine-like metallic accords in the face of artificial intelligence, a return by many founder-perfumers to scents from their childhood for heightened emotional engagement and a leaning towards personalization/DIY aspects integrated within the brand experience.
Here we highlight four of the most innovative propositions from the show:
Abduction Eau de Parfum: You Will Forget What Has Happened Until the Appointed Time
First exhibited at the Machine Project Gallery in 2016 and newly available for purchase, Joe Merrell presented his experimental project which he worked on with Saskia Wilson-Brown (IAO) and perfumer Christopher Gordon. Based on the artist's research into the most frequently described scents associated with alien abduction as documented in eyewitness accounts and police reports, the intended sensation conjures cinnamon, cardboard, overripe fruit, damp earth and yeast. Merrell states that "I have been asked whether anyone reporting alien encounters has smelled Abduction and if so, what do they think? The answer is "yes" and the responses from those who recall [the] scent have ranged from 'familiar' to 'uncomfortably similar.'"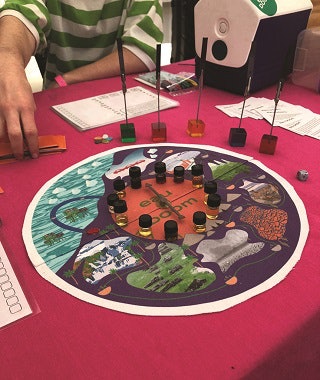 The olfactory board game is played by smelling and identifying essential oils to save plants from becoming extinct.
Photo by the author.
Beyond Human: Sceloporus
Oregon-based artist Carla Bengston presented Beyond Human: Sceloporus, reflecting her fascination with the communication systems of non-human species. Working with biologists Dr. Emilia Martins and Dr. Peter Wetherwax, Bengston oversaw the development of an all-natural fragrance based on pheromones from the blue-belly lizard; highlighted notes include jasmonates and pyrazines (found in citrus, coffee and chocolate) which impart grassy notes to cabernet sauvignon notes.
Perfume Design Challenge
IAO showcased recent entrees to its monthly Perfume Design Challenge in which perfumers interested in experimental work are invited to compose on a theme set by the Institute under timed conditions and with a limited olfactory palette. Participants present their scents and strategy to the other attendees and the works are then displayed at the IAO throughout the month. Launched in September, the first two themes were Mountain Lion P-22 and Possession.
Eau Doom
Eau Doom is an olfactory board game brained by artist Eleonora Edreva, set in a speculative future in which humans have brought catastrophe to the earth and plants are almost extinct. The game is played by smelling and identifying essential oils to save them from being gone forever. Edreva intended for the game to promote the sense of smell for problem-solving, increase scent memory and raise awareness for climate change by tapping into our most primal and emotional of senses.