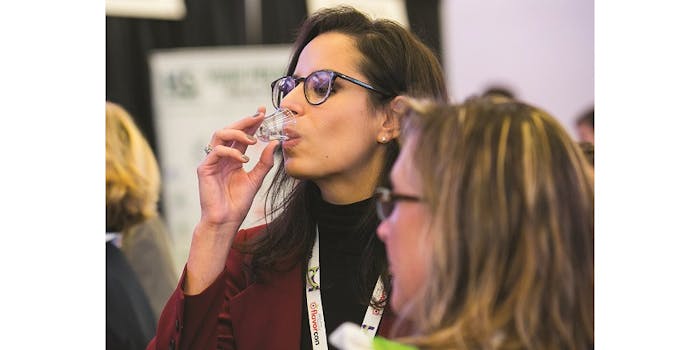 In the last several decades, the flavor industry has experienced an unprecedented amount of change. Globalization and digitization have made the world a smaller, closer place. Predicting the next big flavor trend has become increasingly difficult, as the global consumer is continuously looking for cleaner products that offer flavorful experiences and healthy benefits. Outside of consumer demands, the industry is facing pressure from regulatory forces on clean label and safety. More recently, global political and trade policies have posed new challenges to packaging and ingredient supply.
These topics and more will be at the heart of Flavorcon 2018, as flavor professionals look to the future of improving flavor, food and beverage. Taking place November 13-15, 2018, at Harrah's Resort in Atlantic City, N.J., the conference will unite flavorists, product developers and consumer packaged goods companies to discuss the ever-changing flavor landscape and explore issues related to regulations, consumer demands, technology, innovation and more.
In addition to a roster of leading professional voices, the Expo Hall will feature global flavor suppliers, manufacturers and service companies, as well as the first-ever Innovation Stage for companies to educate and demonstrate novel ingredients and products.
Future-Ready Flavors
Christina Agapakis, creative director for Ginkgo Bioworks, will look at the bright future of biotechnology with her presentation, "Nature-cultured: Biotechnology and the Future of Flavor." During this session, Agapakis will discuss the intersection of biology and technology and how it is blurring the line between natural and artificial. She will discuss how biotechnology is addressing concerns from consumers for sustainable products and leading to new flavor options.
Directly following Agapakis' presentation, the conversation will turn from biotechnology to the world of regulations. In "Flavor Regulations for Flavorists – Key Issues for Flavor Development & Marketing," Joanna Drake, general counsel, Flavor Extracts and Manufacturers Association (FEMA) will present a brief history of FEMA and some of the issues facing flavorists and product developers today, including California's Prop 65 and regulations surrounding natural labeling.
Tony Moore, chief innovation officer and chief flavorist for Flavor Producers, will discuss the future of flavor and the role of the flavorist in his presentation, "The Future of Flavor(ists)." Moore will talk about the relationship between current regulatory and flavor trends and the impact on flavorists' work. Additionally, he will examine the importance of creating global, natural, organic and non-GMO flavors and how the clean label trend has led to the demand of products without flavors.
Another issue facing the creation of flavors is the increased market volatility of naturals and global weather events that have impacted the supply chain. Specifically focusing on the world of citrus flavors, Richard Pisano, Jr., president of Citrus and Allied Essences Ltd., will present "Novel Citrus Varieties, Their Individual Flavor Profiles and Uses." This presentation will look at the emergence of on-trend citrus flavors like clementine, yuzu, tarocco, Moro blood oranges and Tardivo di Ciaculli mandarins and how these fruits can be used in flavor development. The emergence of these citrus flavors presents an opportunity to meet market volatility and scarcity by utilizing lesser-known sources.
Flavor Safety, Solubility and Stability
Center to the job of a flavorist is creating safe and dependable flavors. Technical presentations will feature discussions on solubility, pathogen detection, stability and volatile flavor compounds in superfoods. Danny Hodrien, managing director and chief flavorist for F&F Projects Ltd., will present, "Volatile Flavor Compounds of Latest Superfoods." Appealing to the demand of consumers looking for more functional flavors, superfoods have become a popular topic. In his talk, he will discuss the volatile flavor compounds of maqui berries and watermelon seeds by using GCMS and solid phase microextraction. He will also review compounds of flavor significance and formulations.
Cindy Cosmos, principal flavorist for Bell F&F, will be presenting "Solubility & Flavor Performance," where she will look at the dual role of solubility. Not only does solubility play a role in the finished product, it interacts with the ingredients within the flavor and impacts how they are combined. Later in the day, Yvonne Jin, principal technologist at Ingredion, will focus on flavor stability in her presentation, "Design and Deliver Stable Flavors." Jin will look at the technical considerations of selecting ingredients for stable flavor emulsions and encapsulants. She will also discuss the raw materials available for addressing the issue of flavor stability.
Moving from volatile flavors and solubility, Patrick Bird, microbiology R&D lab supervisor of Q Laboratories, will examine rapid pathogen detection methods and its use in product development. "Fit for Purpose: Matrix Verification Studies for Microbiological Methods and Rapid Pathogen Detection," will examine how partnering with a qualified laboratory to perform verification studies can help companies comply with Food Safety Modernization Act (FSMA) Standards and assure pathogen testing is done accurately.
Rounding out the conversation on creating effective flavors, Jonathan Anobile, assistant director of technology transfer of FlavorHealth, will present "Creating Healthier Products Without Compromising Taste." Anobile will share his expertise on flavor modulation focusing on finished flavors that enable up to 50% reduction in sweeteners, salt and bitterness. Additionally, he will present sensory research on the topic and how to avoid complication during formulation.
Securing the Supply Chain
As flavorists and product developers are feeling pressure to comply with evolving regulations and deliver innovative flavors, they are also faced with the challenge of securing raw materials. The impact of global warming, environmental changes and facility shutdowns have influenced the industry to improve facility processes and look more closely at alternative routes to natural ingredients through bioproduction. In the presentation, "The Perfect Plant: Improving Flavor Manufacturing," Joe MacDonald, VP of global planning for International Flavors and Fragrances, and Rich DiBernardo, president of Initech Inc., will explore the future of flavor manufacturing and elaborate on how to create a more streamlined flavor house. During the session, the speakers will discuss and demonstrate manufacturing improvement processes and introduce predictive analysis methods. The conversation will turn from manufacturing principles to bioproduction processes with a session from Brendon Dusel, senior scientist with Conagen Inc. In his presentation, "A Sweet Outlook on Bioproduction of High-Value Targeted Ingredients," he will discuss the benefits and limitations of fermentation and what's in-store for the next generation of fermented natural ingredients. Additionally, Dusel will examine current and future applications of bioproduction and several case studies on its impact on the food and beverage markets.
Consumers Crave More
One of the most influential market drivers for the flavor industry is the demand from consumers, which have largely been focused around functional, natural and innovative flavor options. Ketan Shah, consulting senior flavorist for Esha Flavor Solutions, and Matthias Guentert, flavor consultant, will discuss the relationship between consumer trends and flavor creation. During their "Key Food Consumer Trends and their Impact on Flavor Innovation" presentation, the two will discuss the challenges of meeting consumer demands for creating flavored products with reduced sugar, salt and fat.
Amy Marks-McGee, founder of Trendincite LLC, will present, "Food Today – What's Brewing and Cooking?" During this presentation, Marks-McGee will explore the trends emerging across various segments, including food, beverages (alcoholic and non), snacks, confections and baked goods, in addition to looking at the culinary influences from restaurants and retailers. She will also explore the various market drivers, products and technologies that are innovating the flavor market.
"This presentation is a quick peek at existing and emerging trends happening in food and beverages across market segments. From sweet to savory flavors, it will open attendees' eyes to a wide variety of activity with some fun examples of multi-sensory products, ingredient stories and crossover applications," said Marks-McGee.
Richard Calladonato, director of the Global Culinary and Baking Institute for Campbell's Soup Company will give a talk titled "Developing Flavor: Where Culinary Classic's Meet Flavor of Tomorrow." Sharing his experience with Campbell's Soup Company, he discuss how classic cooking methods along with today's technology are driving food companies to create innovative food and beverage solutions.
Natural, organic and cruelty-free are just some of the buzzwords that consumers have gravitated towards in recent years. The flavor industry will take a closer look at the clean label trend in a presentation by Kevin Ryan, former director strategy and innovation for General Mills. During his talk, "Demystifying the 'Clean' Consumer," Ryan will take an anthropological, social and business perspective on these trends and how it has evolved into the powerhouse market driver that it is today.
Breaking Beverages
In addition to consumers looking for cleaner products, they are also looking for products that are functional and better-for-you. One area that has seen a renaissance of growth in this area is the RTD beverage segment.
Returning to Flavorcon for her second year, Illana Orlofsky, marketing manager of Imbibe, will be presenting "The Most Disruptive Beverages You Should Know About." Though some segments have become stagnant or declined, like sodas, many beverage categories have seen rapid growth with unique innovations. She will discuss the hottest beverages that are disrupting the market and explore novel ingredients. Additionally, she will share some of the language and claims that brands are using to discuss and promote their products.
Following Orlofsky's presentation, the conversation will turn to the topic of alcoholic beverages. In Shane McDonald's, Ph.D., presentation "Craft Beer Flavor Infusion," he will explore the craft beer flavor trend and how it has spilled into other markets. This session will look at the chemistry and benefits of creating beer flavors without the alcohol. Moving from beer flavors to spirit flavors, Ewan Morgan, national director of Diageo Reserve Program, will present "The Formation of Flavor in Whisky," which will focus on technical aspects of the flavor manipulation process, from yeast strain selection to maturation.
"Attendees will get to taste unmatured spirit from one of Diageo's distilleries and compare it to its fully matured state examining the chemical change that takes place within the barrel as well as during the fermentation and distillation process," said Morgan. "This will be a fun, high energy and, most importantly, informative seminar that will appeal to all with an interest in sensory or organic chemistry…or just whisky!" 
Colin Spoelman, co-founder and head distiller for Brooklyn's Kings County Distillery, will present "Perspectives from an Indie Distillery." During his session, Spoelman will discuss the history and culture behind making American whiskey, along with sharing insight from his own distillery. He will also give insight into the craft whiskey market and his take on innovating flavors.
Savory Treats to Oral Care Flavor
In addition to functional flavors, consumers are looking for products that provide unique experiences. From chips and snacks with a bit more heat to the fresh sensation from oral care products, the industry is exploring new ways to transport consumers through flavor.
John Weaver, marketing fellow for Spice and Herb Flavor Extracts, will present his talk, "The Heat is On! The World of Specialty Chili Peppers." Weaver will discuss the various uses of specialty peppers and their different flavor profiles, pungency and possible applications. He will explore different peppers and how they provide their own unique heat level, color and flavor. Additionally, he will showcase some of the global cuisines that use specialty peppers and how they can help inspire the creation of authentic flavors.
"Specialty peppers allow customers the ability to provide consumers with a new depth to their heat experience," said Weaver. "Consumers are looking for more transparency and are relating to more specific pepper varieties for flavor, heat and authenticity."
After this presentation, Deepthi Weerasinghe, Ph.D. of D3 Consulting and formerly of IFF, Firmenich, Sensient, Coca-Cola and PepsiCo, will discuss the complex nature of grill flavors in his session, "The Future of Grill Flavors: Overcoming Safety Concerns." In this talk, Weerasinghe will address how to create safer grill flavors in response to the latest EU bans, including possible challenges for natural and clean labels.
The topic will change from spicy and savory flavors to the world of freshness in oral care with a presentation by Catalina Lee, worldwide director of global flavors for Colgate Palmolive. In "Decoding Flavors for Oral Care," she will discuss key issues in oral care flavor formulations, including masking the taste of base and active ingredients. Additionally, Lee will discuss Colgate's approach to using stable raw materials, cooling technologies and sensorial experiences to generate taste acceptance for the global consumer.
A Tasty Tomorrow
Despite obstacles in terms of regulations, raw material supply and shifting consumer preferences, the industry is still expanding. The U.S. flavor industry is expected to reach $4.87 billion by 2025a, growing at a CAGR of 2.2% between 2017 to 2025.
During Flavorcon 2018, the industry will not only take a step back to access larger issues facing the current landscape but also chart the future of the industry. Though change seems to come from a multitude of locations, one thing remains the same – the ability of the flavor industry to tackle change and enhance the everyday lives of those it serves.
Footnote:
a "U.S. Flavor Market Size Worth $4.87 Billion By 2025 | CAGR: 2.2%." U.S. Flavor Market Size Worth $4.87 Billion By 2025 | CAGR: 2.2%, Grand View Research, Aug. 2017, www.grandviewresearch.com/press-release/us-flavors-market-analysis.