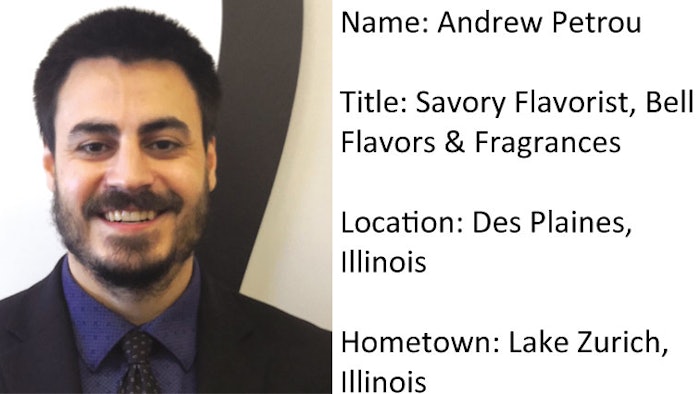 Perfumer & Flavorist+ [P&F+]: What led you to the flavor industry?
Andrew Petrou [AP]: I had what I would call a lucky transition! I was a young paint formulation chemist for Valspar fresh out of college and doing well, but budget cuts and business decisions led to all low-level newer employees to be let go on severance. Which was a blessing in disguise as I got two months paid vacation and then landed an interesting sounding lab tech position at a flavor company. I started in savory and fell in love with the industry as every day was fascinating and brought new projects and challenges. Such a great change of pace, making a variety of products and evaluating so many different smells and tastes. I would never look back at developing one or two paint formulations for months on end, literally watching it dry on test panels! And from there, my passion to become a flavorist began and the ball started rolling on training and learning everything I could.
P&F+: What applications do you primarily formulate for? Do you have a favorite?
AP: I formulate for a large variety of applications. The most frequent are for vegan or alternative protein products, whether they be meat alternatives or dairy alternatives. The next most common applications would include seasonings, sauces/dressings, soups and ready-to-eat (RTE) meals. I also make flavors for alcoholic and non-alcoholic beverages, on the savory and occasionally sweet side. There is some crossover with flavors or enhancers and maskers that I make for the bakery and confection market. My favorite application has been all the alternative protein and vegan products. It is fascinating and rewarding to see that sector of the market grow and these finished products becoming better textured and tasting closer to the real thing every month. As someone who has sensitivity to dairy, I'm always trying my best to make really good vegan dairy alternatives so that I can start buying them for myself at home.
P&F+: Do you have advice for people coming into the flavor field?
AP: My advice for newcomers would be to figure out if you truly enjoy this field and want to stay. If that answer is yes, then dive into it as much as you can. Read what you can, stay current on articles and happenings around the industry. Be attentive to detail with every sample you make, really smell and taste every compound you use in a formulation. Lastly, ask your mentor so many questions they get annoyed! The more you learn and extract knowledge from those mentors, the stronger your base understanding and learning curve will be. It will just make it that much easier to study and pass your apprentice tests. And it also will give you the foundation to become a successful flavorist while still a trainee. And with that in mind, always be open to criticism and use your tools and resources. Listen to sensory advice and results, have other flavorists taste your trials and always take in their feedback with positivity.
P&F+: How has the job of flavorist changed during your career?
AP: During my career, the job hasn't changed too much. I'd say it depends more on your employer's customer base and their goals, and even your department or specialty. On the savory side, the industry has heavily shifted towards alternative protein product developments for the vegan industry. It has also veered towards higher regulatory compliance standards, which include organic, non-GMO project verified and clean label solutions. Lastly, I would say duplications are becoming more common, especially through COVID times, as the supply chain is out of whack globally and everyone wants second or cheaper sources with shorter and faster lead times. This, in turn, has rapidly decreased development time with strong demands. It has made me a more efficient flavorist and great at multitasking.
P&F+: What is the best part of your job?
AP: The best part of my job is new product development and innovation. Whenever we come across a new equipment capability or access to new products we can innovate with, I love to design new items. Products that may not have ever existed, or implementations of existing raw materials in unique combinations to create enhancers or maskers that meet high compliances and do not exist commercially. It is a very rewarding feeling to experiment in the unknown and eventually make something truly unique in the space, and then see it commercialized and be successful in products on your local grocery shelves.