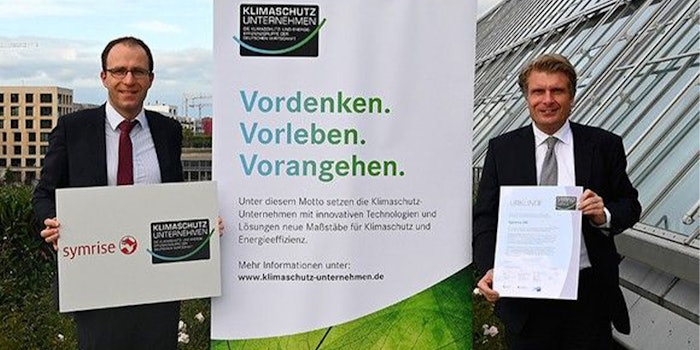 Symrise has joined cross-sector network Klimaschutz-Unternehmen e. V. Initiative to collaborate on solutions to achieve Germany's climate policy goals.
Related: Symrise's Usha Vijay Receives CEW Women's Leadership Award
Klimaschutz-Unternehmen e. V. has admitted eight new members, with Symrise belonging to these companies, all of which are at the forefront of climate protection in Germany.
At a virtual event in Berlin, parliamentary state secretary Thomas Bareiß, member of the Bundestag, presented the certificates for outstanding climate protection achievements to the award-winning companies. He emphasized its commitment to ambitious climate protection goals as well as its challenging agendas in energy efficiency and the use of renewable energies.
Bareiß said, "These climate protection companies have voluntarily committed to high climate protection and energy efficiency targets. This is commendable. These kinds of pioneers impressively show that environmental protection can only be successful in cooperation with the corporate world. So I encourage even more businesses to get on board with the initiative!"
Jörg Schmidt, chairman of Klimaschutz-Unternehmen e. V., says, "From small and medium-sized enterprises to major corporations, the addition of these eight new members provides clear proof that there is great interest in sustainable business practices. The constant growth of our association also shows that the desire to take targeted action against climate change is spreading through every industry. I wholeheartedly welcome the eight new climate protection companies to our pioneering nationwide initiative."
Heinz-Jürgen Bertram, chief executive officer of Symrise AG said, "We are very excited to be admitted to the network of German climate protection companies because we have been committed to climate protection for many years. Since we use a large variety of natural raw materials, protecting the climate is part of our DNA. This is how we can continue to make a sustainable contribution to nutrition, care and well-being. We have set ambitious goals for ourselves in this area: By 2025 we want to reduce our greenhouse gas emissions in relation to value added by more than half compared with 2016. We set ourselves the ambitious goal of running our business climate-positive starting in 2030."