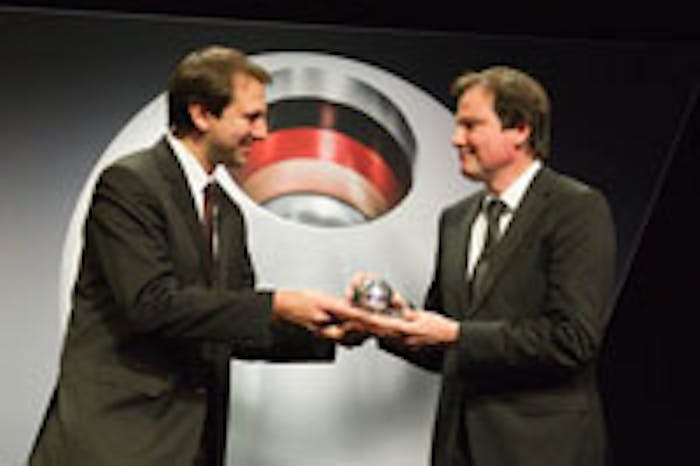 Symrise AG has won a 2012 German Sustainability Award in the "Germany's Most Sustainable Initiatives" category, and was recognized for its approach to the sustainable procurement of vanilla in Madagascar. 
Symrise works directly with more than 1,000 vanilla farmers in Madagascar and also supports village communities, while processing vanilla locally. Now in its fifth year, the German Sustainability Award Foundation recognizes companies which take on a special degree of responsibility and combine economic success with social responsibility and environmental protection in an exemplary manner.
Heinz-Jürgen Bertram, Symrise AG's CEO, accepted the award for "Germany's Most Sustainable Initiative" from Andreas Jung, a member of the German Parliament and chairman of the Parliamentary Advisory Council on Sustainable Development.
"Receiving the German Sustainability Award fills us with enormous pride. It is a significant recognition of our sustainability efforts and particularly of our team in Madagascar, who support the local farmers there on a daily basis," explained Bertram. "With the socially and environmentally responsible procurement of vanilla, we have developed a sustainable model of success. Our goal is to create added value – for Symrise, our customers, and other stakeholders associated with our company, such as local partners and suppliers. With this initiative, we have achieved this goal."
Symrise has continually expanded its activities in Madagascar over the years as part of its strategy of sustainable development. As the entire procurement process takes place locally, from cultivation and harvesting, to the fermentation of the beans, all the way through to extraction. Today, Symrise is one of the largest buyers of this spice in Madagascar. To ensure that its projects in the areas of environmental protection, income diversification, nutrition, health and education continue to blossom over the long term, Symrise works with a network of qualified partners, including international development organizations, NGOs and local farmers' associations.
"For us, sustainability and business success go hand in hand. This kind of approach can only succeed though if one thinks and plans for the long-term. That is why our commitment in Madagascar will continue to grow," Bertram added.