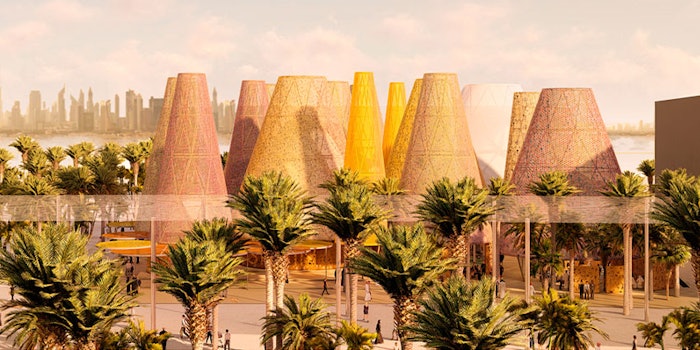 Iberchem will be adding an olfactory dimension to the Spain pavilion at Expo 2020 Dubai.
Expo 2020 will take place in Dubai from October 2021 to March 2022, with more than 25 million visitors from all around the world expected to attend. "Connecting Minds, Creating the Future" is the main theme of the Expo, with "opportunity," "mobility" and "sustainability" as the three subthemes.
Previously: Iberchem Brings Sense of Smell Workshop to Children In Madrid.
Spain's pavilion, (managed by Acción Cultural Española, a public organization responsible for the presence in international and universal exhibitions) will cover about 6,000 m2 and will be located in the expo district dedicated to sustainability, under the heading "Intelligence for life."
This marks the first occasion where scents will be integrated into the design of Spain's pavilion. Different devices and fragrance applications will be used across the installations to give visitors an olfactory experience, highlighting some of the most characteristic scents the country has to offer.
An exclusive perfume will also be created for the pavilion, embodying all of the olfactory richness Spain has to offer.
Previously: Iberchem Celebrates World Water Day with Water Consumption Reduction.
"Spain being one of the world's major fragrance producers, it was a relevant choice to include fragrances in the design of the pavilion," says Ramón Fernández, CEO of Iberchem. "The Dubai Expo will be, without a doubt, an event that will be remembered in the future and it is an honor to be part of it. Over the past years, Iberchem has presented a series of projects combining different disciplines and the universe of fragrances. Now, to be given the task of illustrating a country through scent, especially on the occasion of a World Expo, is a challenge we are thrilled to take on."
"Spain has a lot to offer when it comes to scents: from the green aroma of the northern woods to the fresh air of the coast and the arid climate of the south," said Luz Vaquero, Iberchem's head perfumer. "It's a beautiful and enriching experience for a perfumer. It represents a unique opportunity to create fragrances with a distinctive profile. Each scent we have designed embraces, in its own way, the country's natural, cultural and historical attributes. Visitors will get to discover a combination of recognizable scents and beautiful olfactive allegories."