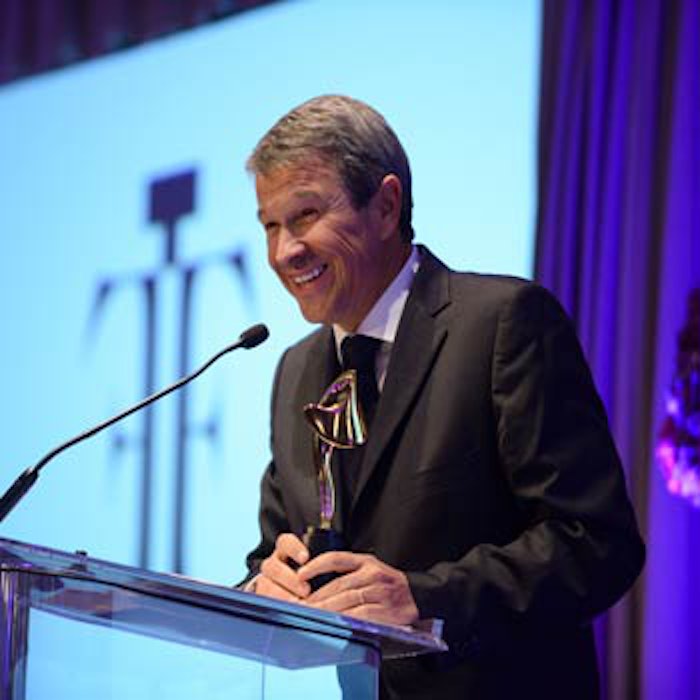 Patrick Firmenich, vice chairman, Firmenich was honored at Fragrance Foundation's 16th annual Circle of Champions dinner at the St. Regis Hotel on September 8, 2015.
The event featured speeches by industry colleagues Elizabeth Musmanno, president, Fragrance Foundation, William Lauder, executive chairman, Estée Lauder, Gilbert Ghostine, CEO Firmenich, Armand de Villoutreys, president of perfumery, Firmenich SA, and Ann Gottlieb, owner, Ann Gottlieb Associates, who all highlighted Firmenich's tenure with the 120- year-old fragrance house for the past 25 years.
"If it weren't for the partnerships that we have with Patrick and the entire Firmenich firm, we wouldn't be here. [The] partnerships we have with the brilliant perfumers who we have nurtured...wouldn't be [as] successful and we wouldn't be engaging consumers so passionately as we do," says William Lauder.
Rising Champion
Beginning in 1990, Patrick Firmenich joined Firmenich's fine fragrance sales division in Paris. In 1993, he was named vice president, fine fragrance Firmenich North America located in New York. Four years later, in 1997, Firmenich was appointed president of Firmenich Paris and corporate vice president of fine fragrances worldwide in recognition of exceeding sales goals in his division. Firmenich was named chief executive officer in 2002, the fourth generation CEO to lead the company.
His tenure with the company marked significant growth and investment in international R&D. Firmenich has also led the company in several sustainability initiatives, including the development of women-run businesses in Uganda, rainforest-certified vanilla in Madagascar, and building schools in Haiti where vetiver is sourced.
One success in particular, the challenging and nearly failed fragrance, Calvin Klein's Ck One, was recounted by fragrance consultant, Ann Gottlieb. The fragrance was formulated by Firmenich perfumer, Harry Fremont.
"Miracles bear repeating," Gottlieb says, "...suddenly I got a whiff of [Patrick's] fragrance that knocked me out...Well smelling that fragrance, I knew that was it. And that was indeed the fragrance that became Ck One."
Thanking the "Unsung Champions"
Firmenich thanked "the unsung champions of the industry," recognizing the perfumers, the sales teams and the marketers within the industry.
"Now a champion, as it was said tonight, never works alone," Firmenich says, "A champion in my eyes is somebody that helps people lift up, grow up and develop their maximum potential."
In regards to the company's sustainability initiatives, Firmenich concluded the evening by reminding industry colleagues that "companies have a greater role" outside of profit.
He adds, "It is not about profit at all times, at all costs. It is about doing what is right. It is therefore about being a champion of our planet."