Accurate Dosing Systems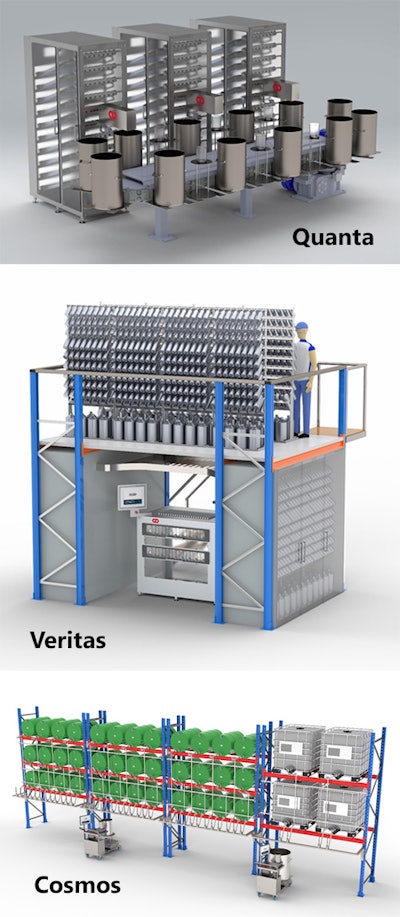 A team of innovative engineers and industry professionals, combining 50 years of accumulative industry knowledge to improve automation technology for fragrance and flavour design and production. Accurate Dosing Systems designs and manufactures dosing systems, deliveriing multiple benefits for our customers in an efficient and timely manner.
When myriad ingredients are required, dosing quickly becomes complicated. You can simplify these processes with automation.
Quanta: 
Quanta is an elite volumetric dosing robot that is fast and accurate, enabling perfumers to respond first to a customer briefing. Robust and reliable, this machine is easy to service. Quanta can dose ingredients simultaneously, accelerating perfumer creativity in sampling and maximising the speed of production.
Veritas: 
Veritas is an efficient gravimetric dosing robot with a small footprint that enables the highest automation rate. This robot provides the option to automate both sampling and production on one robot, with capacity for over 1,000 raw materials.
Veritas is available to lease, enabling automation in your business with minimal capital investment.
Cosmos: 
Cosmos is a semi-automation system combining a mobile dosing trolley, batch software ONYX and two-stage valves, to accelerate operator's mistake-proof processes. This combination of tools empowers operators to dose directly from the material storage location. Cosmos eliminates error by replacing a printed batch sheet with dosing software in conjunction with scales and barcode scanning for each ingredient.
Unparalleled productivity
These powerful solutions can be implemented individually or in parallel to enhance your productivity.
With automation from Accurate Dosing Systems, your business is set up to scale seamlessly, along with adjusting to fluctuations in client demands.
Exceptional customer service
Our dosing systems are designed to work for you – where we are available at any time you require us with technical support or assistance. Our dedicated team of engineers have over 50 years combined experience in fragrance and flavour production, we are truly committed to ensuring that you receive maximum benefit from our automation systems.