Contact for the US:
+1 410-247-5885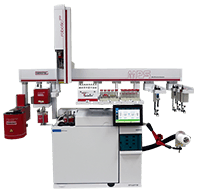 Essential analytical tools for the modern P&F
When it comes to determining the identity and quantity of compounds that make up flavors and fragrances, dependable analytical tools and technologies are required.
GERSTEL has been active in the field of flavor and fragrance analysis for decades. Flavor interaction, compound adulteration, odor threshold….  What do all these things have in common?  The requirements for analytical precision, dynamic range, and sensitivity. GERSTEL is looked at as an expert in these areas. Our expertise in LC and GC analysis makes GERSTEL the obvious source for scientist working with P&F experts. From simple applications focused on productivity and automation to more complex analytical techniques, including olfactory detection and preparative fraction collection, GERSTEL is the source for all your needs. Experienced scientists stand ready to support our customers and to help you meet any analytical challenge.  
Increased Sample Handling - Productivity
The GERSTEL MultiPurpose autosampler (MPS) line is specifically configured to address today's high throughput chromatography demands and individually optimized to work with all the key systems currently utilized in this Industry. 
Specialized techniques for flavor and fragrance
•             Headspace, SPME and Dynamic Headspace
•             Thermal Desorption and Thermal Extraction 
•             Stir Bar Sorptive Extraction (SBSE) using the GERSTEL Twister®
•             Liquid Handling and Sample Preparation
•             Multi Column System for multidimensional GC separations and one or more detectors including MSD
•             Olfactory Detection Port ODP, ergonomically optimized, nasal positioning guide for steady sniffing
•             Olfactory Data Interpreter (ODI) software for voice-to-text peak annotation, MS matches and intensity
•             Software tools for Cumulative Olfactograms, Aroma Extract Dilution Analysis (AEDA) and NIF values.
•             Preparative Fraction Collector PFC for compound purification/concentration over up to 100 runs