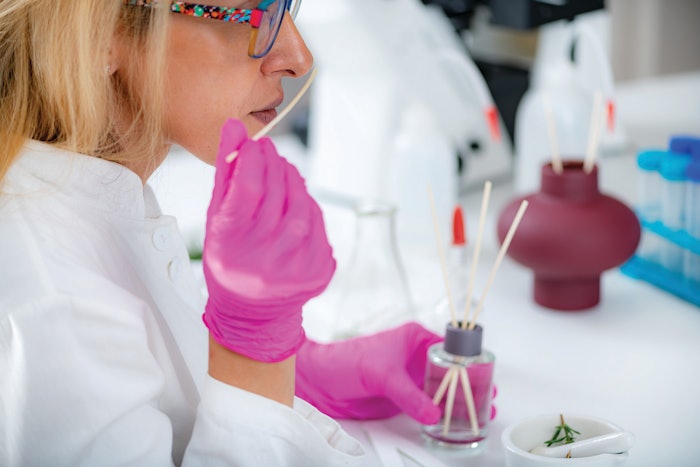 Taking a look back at the top read headlines of June 2023, themes included regulatory updates, appointments, neuroscience, technology launches and more.
Here are the top 10 headlines:
1. dsm-firmenich, Givaudan IFF, Symrise & Treatt Reveal Appointments
See the lineup of professionals stepping into new positions across divisions.
2. How to Apply Taste and Smell Neuroscience to Create Taste Modulators
Alex Woo is set to take the stage at Flavorcon 2023 for his session, "How to Apply Taste and Smell Neuroscience to Create Taste Modulators."
Recent advances in taste and smell neuroscience have fundamentally changed our understanding of human flavor perception. Flavor should be redefined as including all five senses: taste, smell, sight, sound and touch.
NeuroFoodScience, the application of neuroscience in food science, can be an approach to creating natural taste modulators that are better for you and our planet. Actionable examples of modulators for sweet, bitter, salty, umami and kokumi tastes will be highlighted.
3. Kalsec, Kerry & T. Hasegawa Debut Flavor Ingredient Technologies
The global food flavors market is projected to reach $21.3 billion by 2027 according to Markets and Markets. Over the last few weeks three companies have released innovative flavor technology. 
4. Digital Transformation and Artificial Intelligence in Fragrance
Software is eating the world and now it has recently begun smelling it as well. The fragrance industry is starting to go through deep digital transformation processes that address its core competencies, and naturally so, is thus very affected by artificial intelligence (AI). In contrast to information-based industries such as finance and insurance, fragrance took longer to undergo digital transformation because entry barriers for startups and innovation, in general, are higher. CapEx (capital expenditures) involving chemical compounds and labs, together with higher OpEx (operational expenditure) for interdisciplinary talent, make it less susceptible to disruption. Read more by visiting the link above.
5. Xyrena CEO Killian Wells Shares Fragrance Industry Journey
Wells shares how they were introduced to the fragrance industry, "I've been fascinated by fragrance for as long as I can remember, and that's what led me to start my own brand back in 2015. I never intended to become a perfumer myself, but when I approached a few experts to create some avant-garde scents, I found that they struggled to bring my vision to life. So, I took matters into my own hands, and started learning perfumery. It's been a crazy journey ever since!
6. Marie Wright Moderates "Best Practices for Mentoring Flavor Chemists" Panel at Flavorcon 2023
To give flavorists and product developers the tools they need to succeed in an increasingly complex market, Flavorcon (November 8-9) will connect the dots among emerging R&D advances, food and beverage market and flavor trends, and supply chain innovations.
One of these sessions will be moderated by Marie Wright, who will be leading panel of seasoned flavorists discussing best practices for mentoring aspiring flavor chemists.
7. World Perfumery Congress 2024 Announces Dates and Location Details
It's official! The World Perfumery Congress (WPC) will be hosted in Geneva, Switzerland at Palexpo June 24-27, 2024. 
WPC is the global stage for fragrance creativity, ingredients, technology and business—providing the ideal forum for discussing the industry's latest issues and breakthroughs. The three-day event hosts an expo hall, networking opportunities and conference sessions. Join the mailing list to receive updates about the upcoming event.
8. Neuroscience vs. Perfumer: How the Nose Processes Smell
As functional fragrance continues to boom, neuroscience is making its way back to the main stage. With fragrance houses and brands creating ingredients and formulas designed to be mood-boosting for users or offer claims of heightening the wearer's focus, neuroscience is providing the answers. Or at least, trying to.
During the International Fragrance Association United Kingdom's (IFRA UK) Fragrance Forum 2022, the event hosted a discussion between professor Stuart Firestein, Ph.D., of the Department of Biological Sciences at Colombia University and IFRA UK director Lisa Hipgrave on how the nose processes smell from a neuroscience and perfumer's perspective.
P&F+ reached out to the duo to continue the conversation. Below are the responses provided by Hipgrave who weighed in from a perfumer's perspective. Readers can tune into Firestein's insights on neuroscience as it relates to scent through the digital edition or by visiting www.perfumerflavorist.com/multimedia.
9. The Fragrance Foundation Awards 2023 Names Finalists & Select Category Winners
The Fragrance Foundation(TFF) Awards 2023 has announced the winners in all categories. The Fragrance Foundation revealed the 2023 Honoree for Lifetime Achievement Perfumer is Anne Flipo, master perfumer at IFF, and is set to induct L'Oreal CEO Nicolas Hieronimus into the Hall of Fame.
10. Alain Frix Discusses Threat to Essential Oils Industry Due to EU Green Deal
In light of the laudable EU Green Deal perspectives for a cleaner and safer environment, this article presents a holistic approach to the world of natural scents and extracts, and in particular essential oils, from different angles such as their intrinsic complexity, socio-economic importance and vulnerability, underlying dynamics and reflections on petrochemical alternatives for our society.