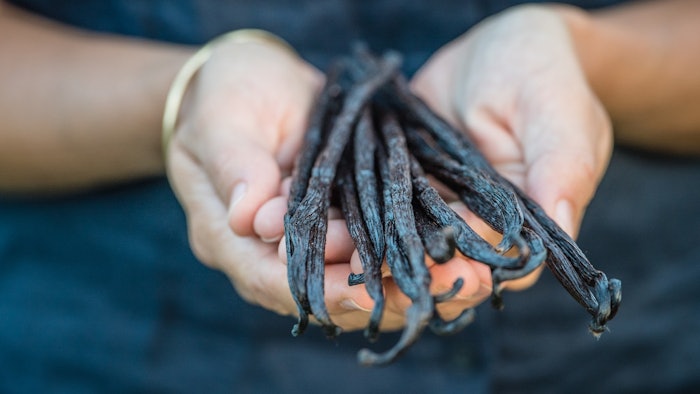 Working together in a four-year research program, Mane, Eurovanille, CIRAD, University of la Réunion, INRAE, CNRS, University of Paris-Saclay and Établissement Vanille de Tahiti are the first team ever to publish the detailed genome of Vanilla planifolia, identifying 59,000 genes making up 83% of the genome.
Related: Mane Kancor Named Outstanding Corporate Innovator Award 2021 Finalist
This approach is part of Mane's technology platform and aims to deliver continuous added value to customers and help build a more sustainable vanilla bean supply chain. By taking part in this French consortium, Mane hopes to develop a vanilla bean more resistant to Fusarium wilt, a worldwide disease caused by a fungus that can destroy up to 70% of vanilla crops.
Most of the vanilla consumed in the world comes from a single species, Vanilla planifolia. The lack of genetic diversity in cultivated plants exposes crops to health risks due to pathogens or climate changes. Improving knowledge of the Vanilla planifolia genome is therefore essential in order to create new varieties and reduce these risks.
Metabolic pathways and biological mechanisms are encoded in the genome. This means that sequencing the genome will also help researchers identify beneficial traits in order to improve plant vigor, vanilla bean quality, fertilization requirements and climate change adaptation.
The results of this research have been published in the review Plant Communications, on May 5, 2022, and the sequenced genome is now publicly available on the Vanilla Genome Hub platform. This research will continue with the hope of a later version to complete the sequence.
Want to know everything going on in flavor & fragrance? Sign up for P&F+'s newsletter. You can also follow along on Instagram and LinkedIn.