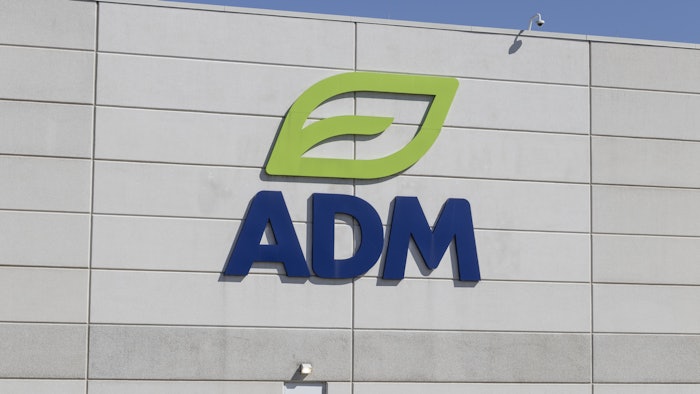 ADM released financial results for the quarter ended March 31, 2022, reporting first-quarter net earnings and adjusted earnings of about $1.1 billion.
Related: ADM Announces Alternative Protein Innovation Center
Highlights of the report include:
Q1 2022 EPS as reported of $1.86 includes a $0.02 per share net charge related to impairments, restructuring, and settlement; a $0.03 per share loss related to the mark-to-market adjustment on the Wilmar exchangeable bond; and a $0.01 per share tax benefit related to certain discrete items. Adjusted EPS, which excludes these items, was $1.90.
Ag Services results were significantly higher versus the first quarter of 2021. Global Trade results were higher, driven by strong performances in destination marketing and global ocean freight. North American origination margins and volumes were lower year over year, including approximately $75 million in negative timing effects, which will reverse in the coming quarters.
Crushing was higher year over year in a strong global margin environment driven by protein and vegetable oil demand. Improving margins in the quarter resulted in approximately $60 million in negative timing effects—which will reverse in the coming quarters—versus approximately $50 million in positive timing in the prior-year quarter.
Refined Products and Other results were much higher than the prior-year period, driven by healthy refining premiums and good refined oils demand in North America, as well as strong biodiesel margins in EMEA.
Equity earnings from Wilmar were significantly higher versus the first quarter of 2021.
Carbohydrate Solutions delivered results that were substantially higher year over year.
The Starches and Sweeteners subsegment, including ethanol production from our wet mills, delivered much higher results versus the prior-year quarter, driven by higher corn co-product revenues and improved citric acid profits in North America; higher volumes and margins in EMEA; and higher volumes and margins in wheat milling. Sales volumes for starches and sweeteners continued their recovery.
Vantage Corn Processors delivered solid execution margins, but position losses on ethanol inventory as prices fell early in the quarter drove lower results versus the prior year.
Nutrition delivered extremely strong revenue growth of 23% and maintained healthy margins, driving substantially higher results.
Human Nutrition delivered higher year-over-year results. Flavors continued to deliver solid revenue growth, offset by some higher costs. Strong sales growth was seen in alternative proteins, including accretion from our Sojaprotein acquisition. Health & Wellness was also higher year over year, powered by probiotics, Deerland Probiotics acquisition and demand for fiber.
Animal Nutrition profits were nearly double the year-ago period, due primarily to strength in amino acids.
Other Business results were substantially higher, driven primarily by better performance in captive insurance, including reduced claim settlements versus the prior year.
Segment operating profit of $1.5 billion for the quarter includes net charges related to gains, impairments, restructuring and settlement of $17 million ($0.02 per share).
In Corporate results, interest expense increased year over year on higher expense for long-term debt, higher short-term borrowings to support working capital needs and interest related to a tax item. Unallocated corporate costs were higher year over year due primarily to higher IT operating and project-related costs and higher costs in the company's centers of excellence, partially offset by incentive compensation accrual adjustments.
The effective tax rate for the quarter was 16%, in line with the prior year.
Chairman and CEO, Juan Luciano, said, "I'm very proud of how our team lived our culture and fulfilled our purpose over the last quarter, as they continued to serve the world's need for nutrition in a dynamic global environment. Our first-quarter financial results, including adjusted earnings per share of $1.90, reflect an extension and amplification of the factors that drove our 2021 performance: great execution by our team, including exceptional growth in Nutrition and effective risk management; a tighter supply environment, especially with the smaller South American crop; and robust and resilient demand. Importantly, I'm also very appreciative of how our company has rallied to support our colleagues in Ukraine and the country's agriculture industry."
Luciano continued, "Looking forward, we expect reduced crop supplies—caused by the weak Canadian canola crop, the short South American crops, and now the disruptions in the Black Sea region—to drive continued tightness in global grain markets for the next few years. Longer term, markets continue to reflect the importance of the enduring global trends that are fueling performance across our portfolio by driving demand for our products. And within ADM, our productivity and innovation efforts are continuing to help us deliver on the evolving needs of our customers. Considering these factors, we expect 2022 results to exceed 2021's."
Want to know everything going on in flavor & fragrance? Sign up for P&F+'s newsletter. You can also follow along on Instagram and LinkedIn.