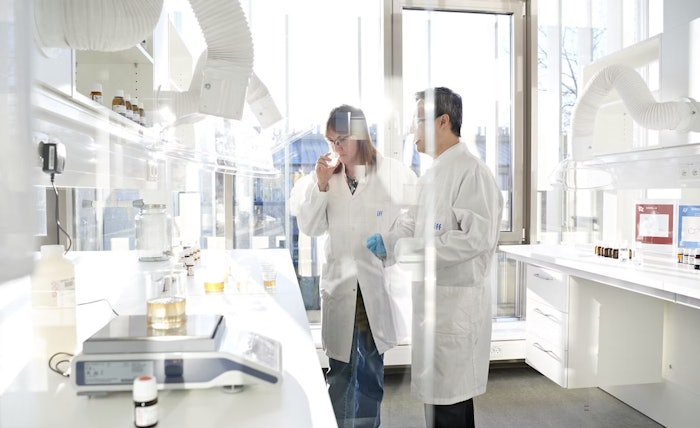 courtesy of IFF
Taking a look back at the top read headlines of April, themes included expansion and trend forecasts. 
Here are the top 10 headlines of April 2023:
As of April 3, 2023, DSM and Firmenich officially obtained competition clearance from the Competition Commission of India (CCI). The two companies now have competition clearance in all required jurisdictions, as a result of which the Transaction Condition relating to the competition clearances has now been satisfied. Earlier this week the duo officially merged at dsm-firmenich.
2. Firmenich and Mane Invest in Fragrance Center Expansions
In the last few months, Firmenich and Mane have seriously invested in their fragrance capabilities worldwide. Both Mane's New York Fine Fragrance Creative Center and Firmenich's Villa Harmony in China are client focused enabling both companies to shine a light on capabilities. 
3. Givaudan Releases Q1 2023 Sales Results
Givaudan has released its first quarter sales for 2023, with recorded sales of CHF 1,773 million, an increase of 3.6% on a like-for-like (LFL) basis and a decrease of 0.4% in Swiss francs. With sustained higher input costs in 2023, the company is continuing to implement price increases in collaboration with its customers to fully compensate for the increases in input costs. 
We are only in the first quarter of 2023, and the fragrance industry is making headlines with digital technology innovation launches. The global artificial intelligence market size was valued at $136.55 billion in 2022 and is projected to expand at a compound annual growth rate of 37.3% from 2023 to 2030, according to a report by Grand View Research. The industry is echoing this growth by investing in platforms and technologies to enhance data collection methods and methods.
5. 4 Key Fragrance Trends in 2023 According to Mintel
The global perfume market size was valued at $50.85 billion in 2022 and is expected to register a compound annual growth rate of 5.9% from 2023 to 2030. Mintel has pinpointed a handful of trends and consumer demands that are driving innovation within fragrance. Mintel Global Beauty analyst Clotilde Drape weighs in on the four trends.

The Fragrance Foundation(TFF) Awards 2023 has announced the winners in all categories. The Fragrance Foundation revealed the 2023 Honoree for Lifetime Achievement Perfumer is Anne Flipo, master perfumer at IFF, and is set to induct L'Oreal CEO Nicolas Hieronimus into the Hall of Fame.
7. Mane x Cercle Set to Host World's First Fragranced Music Festival in Spain
On April 17, 2023, Cercle debuted its inaugural signature fragrance Golden Hour designed to "awaken the five senses" during a six-hour event at the Plaza de España, Sevilla. The signature fragrance Golden Hour was created in collaboration with Mane perfumer Ugo Charron and diffused by ScentAir. Golden Hour is described as a bold and seductive scent, infused with bergamot and Coffeewood, a trademarked ingredient by Mane
8. IFF and FlavorSum Announce Flavor Facility Expansions
The global food flavors market size was estimated at $17.19 billion in 2021 and is expected to hit around $26.3 billion by 2030, poised to grow at a compound annual growth rate of 4.84% from 2022 to 2030, according to Precedence Research. Within the last month, both IFF and FlavorSum have invested in expanding capabilities to meet growing demands and further innovation. 
9. Ultra International Names Beatrice Favre-Bulle as Chief Development Officer
Ultra International has tapped Béatrice Favre-Bulle as the chief development officer. Favre-Bulle previous spent more than two decades at Symrise, with her most recent position being the vice president of Scent & Care.
Based out of Paris, Favre-Bulle will oversee the development of technical projects, expand the scale of sustainability operations and launch new marketing initiatives.
The 13th edition of Esxence, the international event dedicated to artistic perfumery, was hosted in Milan from March 30 through April 2, 2023. This year's edition posted a record attendance of 10,300 visitors. 
The expansive expo hall hosted 298 exhibiting brands, divided into 98 main brands and 200 spotlight brands with 30 countries highlighted.