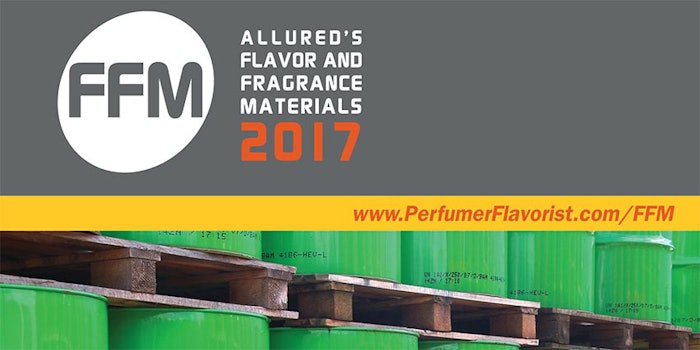 The latest edition of Allured's Flavor & Fragrance Materials Buyer's Guide (FFM) includes information used by flavor and fragrance formulators, industry professionals and consumers around the world. The book is available to purchase at Alluredbooks.
"[The FFM] is way beyond what I imagined. The resources available to me now I would have never found even with intense internet searches!" said David Hanen, Loma Hair Care founder. "This book has already paid for itself in the time saving I have experienced in the very first week! It is by far my favorite reference guide in the lab."
The comprehensive directory lists pertinent information on raw materials, including:
FEMA GRAS number
GRAS 27 and Interim GRAS list materials
CAS number
Natural/artificial identification
Botanical names
Suppliers
Company information
"[The FFM] helps us in finding suppliers for new (or unusual) raw materials … We have about 10 editions I believe!" said Jan Van Biesen, Scentarom CEO.
Experts in the industry use the FFM to find reliable information in one thorough and easy-to-navigate package.
"I bought the book because I now consult in the industry and need a useful reference for who-makes-what … I would purchase it again," said Stephen Hicks, Hicks Innovation Consultants CEO.
Visit Alluredbooks for more information on Allured's Flavor & Fragrance Materials Buyer's Guide.