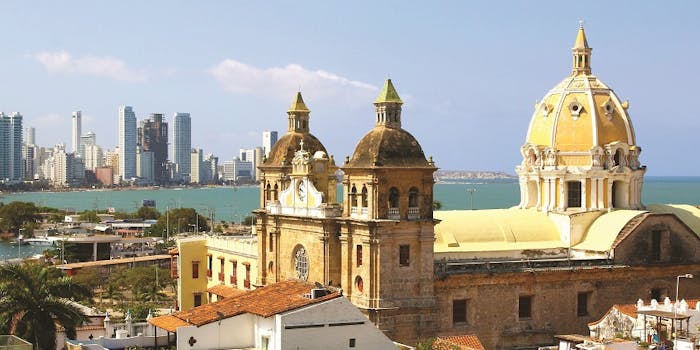 Warm, colorful, historic, musical and hospitable are just a few words to describe Colombia, the world's second most biodiverse country in the world, next to Brazil. With its nutrient and mineral-rich soil surrounded by the powerful Amazon River, Colombia's botanicals are an endless journey of research for the essential oil industry. So much so that this year's International Federation of Essential Oils and Aroma Trades (IFEAT) hosted its annual conference in Cartagena at the Estelar Hotel, which faced the horizon of the Caribbean Sea, where many traders before us have sailed into the ports to showcase their latest goods on journeys we can only imagine. In the United States, we have Colombia to thank for a multitude of its exports: coffee (the fourth largest producer in the world), bananas, rice, tobacco, sugarcane, cocoa beans among and citrus. Lots of citrus.
Home most notably to the Muisca Confederation, Quimbaya Civilization and Tairona Chiefdoms, Colombia is one of the most ethnically and linguistically diverse countries in the world, making it the perfect place for the global IFEAT conference and trade show. Approximately 1,170 people from 54 countries were in attendance. The Caribbean-coasted country established independence as the Republic of Colombia in 1886 after centuries of Spanish colonization beginning in 1499. Cartagena was coveted during the Spanish Inquisition as a port city to the Caribbean, where the city grew quickly—driven first by the gold in the Sinu tombs, then by trade. In 1984, UNESCO declared Cartagena as a "World Heritage Site."
The conference's theme, Las Américas, covered a wide range of topics on the essential oils, F&F markets, sustainability initiatives, legislative and scientific issues surrounding Central and South America, Mexico and the Amazon.
Sights on Citrus
São Paulo is the main orange juice producer in the world, explained Antonio Juliano Ayres, general manager, Fundecitrus. With citrus greening, or huanglongbing (HLB), decimating 90% of Florida's orange population, the industry continues to lean heavily on Brazil due to its favorable soil and climate, infrastructure highways and ports, a strong understanding from growers and an evolving research network. Greening is still present in Brazil; however, productivity is increasing due to new irrigation systems and a better variety of rootstock to work around the disease.
Fundecitrus' initiatives towards greening for Brazil's citrus population is an ongoing collaboration between the public, municipalities, farmers and the industry. Currently, 18.5% of the citrus in São Paulo are affected by greening, while 12 regions in Brazil range from intermediate to severely diseased.
Meanwhile, in Argentina, lemon production is also met with challenges from HLB threat, explained Andy Blum, Citromax, and Sergio Davlos, Cota Ltd. Environmental factors include soil fatigue that lead to slow plantation renewals, higher temperatures, increased droughts and frigid winters (notably the 2013 freeze), in which plantations are still recovering. Additionally, Argentina's volatile economy has currently established several taxes, including a $2.85 tax on 35 kg of oil.
The organic yield is low (12% fresh fruit), while standard yield is about 30%. Where manual labor creates high costs, mechanical harvesting has led to improvements in yield and price/cost. While equipment continues evolving to increase the yield of oil per fruit, various planting techniques and experimentation with rootstocks, such as flying dragon rootstock, can help improve the yield/hectare ratio.
Similarly, Mexico has also detected HLB in its citrus fruits, discussed Norberto Antonio Rodríguez Zenteno, director, Frutech International de Mexico in his presentation on production and industry challenges in Mexico. As the fourth largest orange producer at 4,600 metric tons (Brazil is first with 16,034 MT), Mexico's citrus industry is working to recover its productivity. Scientists have found Mexican lime to be tolerant of HLB, while producers are working diligently to control the disease for orange, lemons and grapefruits.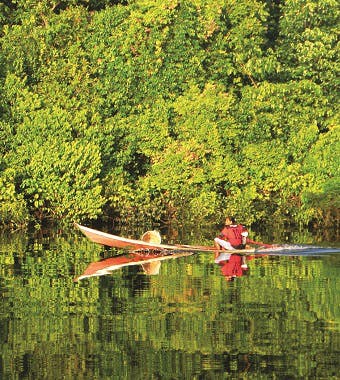 Through reforestation initiatives, seeking alternative plants in exchange for endangered ones and industry transparency, the Amazon's biodiversity can be protected, creating lucrative opportunities for the essential oil market.
Along with environmental challenges, the difficulties in producing essential oils lie in the infrastructure and technical support from local and regional institutions. Elena Stashenko, Ph.D., Laureate professor at the Industrial University of Santander, discussed the botanical study, collection and processing of essential oils in Colombia. Stills are funded from mixed sources, such as governments and universities, to bring pilot projects to fruition. Currently, the pilot projects work with 10 hectares to produce 200 kilos of essential oils, Stashenko explained. These oils are mostly citronella, palmarosa, lemon grass, ylang ylang, patchouli and even vanilla.
Originally a hub for exports like sugar cane, coffee and cotton, Guatemala, El Salvador and Honduras, began planting essential oil botanicals such as lemongrass, citronella, lime and cardamom to diversify crop exports. As the sugar business boomed, essential oil producers began moving towards sugar, bringing essential oil business down, explained Luis Alberta Asturias, founding partner of Aromas Naturales. In his presentation, "Production of Essential Oils in Guatemala, El Salvador and Honduras," Asturias ascribed essential oil challenges to the development of synthetics, new labeling and legislative requirements and intensive labor in the field.
Though coffee and sugar are easier to sell, essential oils are a long-term business, explained Aldemar Castaño, general manager, Factores & Mercadeo S.A. in his presentation, "Colombian F&F Cluster, Connecting Americas and Caribbean." In 2017, imports increased 12%, compared to 4% in 2016, indicating F&F raw materials as an asset to the country. Colombia's 61% of imported essential oils are used by the F&F industry; where 39% are used for other industrial uses like pesticides.
With 13 trade agreements in force, government entities in Colombia, including the National Institute for Medicaments and Food Surveillance and the Colombian Agricultural Institute for Agro-Food Safety, among others regulate the market of ingredients for diverse industries. Though coffee and sugar are easy to sell, essential oils are a long-term business, Castaño explained.
The Brazilian Fragrance Market
Rooted in a historical and cultural tradition in fragrance use paired with a rising population with a longer life expectancy, Brazil's fragrance market is booming explained Patricia Shimojo, marketing professional, Vollmens Fragrances Ltda, in her presentation on the country's fragrance market. The largest country in South America, Brazil is divided into five regions, 27 states, more than 5,000 municipalities, over 200 million people and over $500 billion in GDP.
The homecare market represents $6.8 billion (approximately 4.3% of the global total), with laundry detergent as the leading driver with cleaning products coming in next. As populations grow, families are expanding, and children are living at home, which is also a contributing factor to the rising homecare segment.
Brazil's hair consumer is diverse and olfactive preferences change from region to region, Shimojo explained. Brand loyalty is not a priority for Brazilian consumers who are interested in DIY products containing high-quality and indigenous ingredients. Fragrance is a driver for the haircare segments which focus on consumer demand for hydration and curly hair. Oriental gourmands with native ingredients like coconut, buriti, pracaxi, ojon, macadamia, argan, avocado and rose hops, are used in hair oils/treatments for their nutrient-rich properties.
Aromatic Essential Oils and Reforestation Initiatives
What is it like to produce essential oils in the Amazon? Robin Van Loon, founder and executive director of Peru-based non-profit, Camino Verde, discussed the ecological and economic impacts of rosewood oil production. Popularized in Chanel, rosewood oil has created an opportunity for regeneration initiatives and alternative solutions to the supply chain as the botanical is still on the Endangered Species List of Wild Fauna and Flora. Some lesser known species can show promise as alternatives to rosewood, particularly ones used for timber, Van Loon explained. Agro-forestry is one proactive alternative that allows transparent control of the supply chain. "One strong appeal about rosewood and other plants is that we must know our sources and should accept nothing less than transparency, while protecting these plants by planting more," Van Loon concluded.
Iguatemi Costa, senior scientific manager, Natura, explained how the research of new botanicals is a direct connection to understanding how these materials are used within the local community; which can help develop the ingredient story for products in the larger consumer market.
Costa's team researched 142 collected plant species in the Atlantic Forest biome, where 12 were selected by perfumers to have high olfactory potential. Some of these plants include patqueria, an aromatic herb with a spicy touch of thymal, coriander, pepper, cumin and aspects of wet and woody grass; as well as capitu, a spice used in scented baths in the Amazon region, and reminiscent of black pepper, dried leaves with a fresh citrus and fruity green similar to green mango.
Global Safety Evaluation Standards
Safety is based on evaluations issued by the Flavor Extract and Manufacturers Association's Generally Recognized as Safe program (FEMA GRAS) and the Joint Expert Committee of Food Additives (JECFA), explained Sven Ballschmiede, executive director, International Organization of the Flavor Industry (IOFI). IOFI's mission is to defend the safety of all materials and limit the divergencies in risk assessment by the various global risk assessment associations. Non-tariff barriers can be an obstacle for trade, in which the IOFI code of practice (COP) can be used for countries that do not have a food safety regulatory standard. This way, the COP offers a level playing field to reduce non-tariff barriers.
Ultimately, IOFI will continue outreach to JECFA in order to secure market access for substances all over the world, promote IOFI COP to avoid implementation of new regulatory standards, address new trade restrictions as a result of more protected biodiversity, improve trade monitoring and promote WTO for legal certainty.
Martina Bianchini, president, International Fragrance Association (IFRA), discussed the association's initiatives to develop a comprehensive overview of the fragrance value chain, including clearer communication aimed at policymakers, authorities, academia and other stakeholders; as well as improving robust and well-documented scientific rationale. Though there is no one-size-fits-all sustainability policy, association partnerships between IFEAT, Research Institute of Fragrance Materials (RIFM), IFRA, IOFI and European Federation of Essential Oils (EFEO) will focus on improving the industry's evolving issues in regulation, policy, communication and transparency.
Determining the Size of the Industry
One of the main questions that coursed throughout the conference was how the industry can accurately determine the size of the essential oil market. As essential oil demand continues to grow for the foreseeable future, IFEAT aimed to address the volatile market affected by the growth of aromatherapy and increasing safety regulations. Jalal Charaf, CEO, Atlassence and vice chairman of IFEAT explained in an exclusive interview with P&F how the industry is still facing inaccuracies in terms of the actual size of the essential oil business. Growing at a CAGR of 8.83%, the essential oils market is expected to reach $11.19 billion by 2022a. Another report forecasts the market to reach $27.49 billion by 2022b. Despite different figures that are stated across various reports, determining quantities that are bought and sold accurately are still a challenge due to a key design feature within the industry: secrecy.
"You can't have accurate data or even good estimates from what is traded given the number of times a product can change hands before final destination," Charaf told P&F. "The best data should come from production, but because of the long-time practice of secrecy from producers themselves, I think the best way to get that information is by asking the buyers of naturals from the major players. They are very knowledgeable and because they manage to get contracts to secure volumes, they usually know what's happening in every country. Asking them to supply this information anonymously is one among other solutions we'll explore at IFEAT to gather information about the market and supply it to our members and the rest of the world."
Yet, Charaf is hopeful that this is a key opportunity for buyers, sellers and producers to work together to provide anonymous data about what is exchanged; as well as collaborations between IFEAT, RIFM, IFRA, ISO and EFEO to ensure the safety of these materials for consumption through scientific research—which is also an indication of consumer demand for natural and the perception that these materials are safe to use.